Go Live With Your
D2C Payment
Checkout In Hours
Seamlessly set up best in class checkout page
and boost conversion rate by 60%
Starting at only ₹30K/Month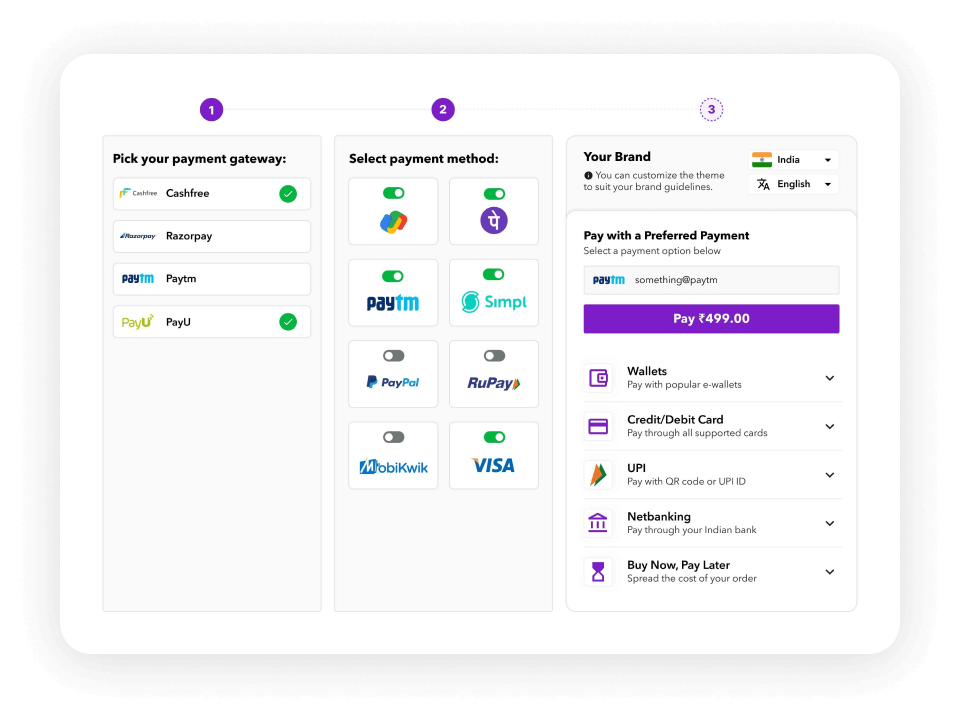 A No-Code Solution
For Your D2C Payment
Integration
Ditch your dependencies on developers for setting up your checkout, orchestrate and route MDR as per your requirements.
Starting at only ₹30K/Month
Stay protected with
enterprise-grade security
Reduce compliance burdens for your business and keep payments safe. Our payment
gateway integration upholds the highest security certification standards.
PCI Level 1 DSS
SCA Compliant
Multiple Routing Options
Static routing: Route payments on payment method/country / BIN/card brand basis to optimise for transaction success rates or fees
Dynamic routing: Route payments on a payment method/country basis on various factors, including success rates ( average & recent), transaction costs, payment service provider availability, etc.
Custom API routing: Create configurable and customised routing logic using API overrides to address your complex use cases.
Choose From Multiple Checkout Options
Select the front- end experience that works best for you and your customers. Optimized for all devices.
Multiple checkout options like hosted payment pages, drop-in widgets, payment links, invoices, mobile apps, and API.
Customize your checkout in a few simple steps.
Easy To Use Simple Dashboard.
Say goodbye to multiple CSVs. A single dashboard with full transaction tracking & standardised performance reporting - including transaction failure error reporting.
Manage chargebacks and refunds across all providers from a single dashboard in our payment orchestration platform.
Reconfigure your checkout experience to optimize overall performance. Discover & analyse which providers are achieving the best results in each local region.
Reduced Transaction Costs
Increase checkout conversions by 60%
Starting at only ₹30K/Month
Seamless Integrations
330+ Payment Gateways and 300+ Methods to get
the best conversions possible.
Starting at only ₹30K/Month
Backed By Leading
Venture Capital Firms
Inai was founded by repeat entrepreneurs who faced this problem first-hand. We have been backed by some of the most bankable investors in the world:
Starting at only ₹30K/Month
Supercharge Your
D2C Checkout Now
Connect every payment method with your customers need. Launch faster, optimise transaction costs and boost your conversions.