The online payments landscape is constantly evolving, both good and bad for businesses. On the one hand, new payment options and technologies can make it easier for customers to pay. On the other hand, the constantly changing landscape can be challenging for businesses to keep up with, leading to frustrating customer experiences.
One of the biggest problems businesses face is cart abandonment. This can happen for various reasons, but the most common is that the payment process is too complicated or takes too long.
To combat this, businesses need to ensure their payment process is as streamlined and user-friendly as possible.
Payment processing is a complex system with many moving parts. Payment Orchestration Platforms (POPs) are platforms that automate the integration process between your website and various PSPs, allowing you to concentrate on what matters most—offering innovative digital goods that your consumers enjoy!
A payment orchestrator like inai can be a big help in this area. By working with multiple payment providers, inai can create a customized solution that fits each business's needs. This way, companies can focus on what they do best and leave the payment processing to inai.
Business Expansion and Rising Complexities
As businesses grow, they face an increasing number of complexities. These complexities include integrations, workforce, market share, reporting, scaling, and security. Let's take a more detailed look at each one of these:
1. Engineering hours:
‍With so many new payment methods and currencies to keep track of, you'll need payment gateways that can help you facilitate payment transactions. However, payment gateways aren't always the easiest to integrate, as they demand your valuable engineering time, especially if you'll be integrating with more than one gateway! In-house payment integrations can eat up months of your engineering time, which can be better used elsewhere.
‍2. Time-to-market:
‍Time-to-market is crucial for any company that wants to succeed in today's competitive marketplace. By streamlining the product development process, shortening the supply chain, and investing in new technologies, companies can quickly get their products to market and gain a competitive advantage. Payment processing is a critical component of any e-commerce operation, and it is often tightly coupled with other back-office systems such as billing, CRM, and ERP. This extensive system coupling can lead to several problems, including inflexible architectures, slow deployment times, and high costs.
‍3. Analytics and reporting in a centralized location:
‍It can be challenging if your payment data is spread across multiple payment gateways and service providers. This can make it difficult to identify issues and implement strategies to improve your business. However, all your transaction data is combined into one dashboard with payments orchestration. This offers insightful real-time analytics that can help you improve your business. With payments orchestration, you can streamline your payment processes and better understand your customers' needs. This can help you increase sales and improve customer satisfaction.
Good read: 10 Ways to Improve Your Checkout Conversion Rates in Southeast Asia
‍4. Scalability:
‍The ability to scale lean and fast is crucial to any business. As your company expands, the strain on your technology infrastructure will only increase the demand for payments. As your company grows, you'll need a payment processing solution that can keep up. If you're already operating on multiple channels and business units, it's time to upgrade to a multi-PSP system. With multiple PSPs, you'll have built-in redundancy and more flexibility in pricing and services. You'll also be able to take advantage of new features and innovations as they become available.
‍5. Security overweight:
‍Fraudulent activity is a serious threat to businesses. It can lead to financial losses, but it can also damage your reputation and erode customer trust. As a result, it's vital to have robust fraud detection and payment security measures. However, if your security is too heavy-handed, you could lock out legitimate customers, especially those in new markets. This can result in lower conversion rates and missed opportunities for growth. To strike the right balance, it's crucial to stay up-to-date on the latest fraud trends and continuously monitor your security procedures to ensure they are effective without being excessively restrictive.

Must Read - Top 7 Best Payment Orchestration Platforms You Need to Know
How Does Payment Orchestration Help Businesses Expand Globally and Locally?
A payment orchestration platform enables businesses to connect to multiple payment providers through single API integration. This simplifies accessing various payment methods and providers and helps companies scale quickly to new markets.
The platform provides the flexibility and redundancy needed to scale efficiently. In addition, the platform also helps businesses manage risk and compliance exposure related to payments. As a result, a payment orchestration platform can be a valuable tool for businesses looking to streamline their payment operations and expand into new markets.
Let Us Delve Deeper Into the Number of Benefits a POP Has To Offer:
1. Smart Payment Routing
Payment providers are constantly optimizing their acceptance rates and reducing payment fees. Switching transactions in real-time based on rules across all payment providers is one way. Subsequent payment providers can process failed transactions through fallback rules or split rules, and merchants can choose which percentages of transactional volume will be processed by which provider.
This helps ensure that the maximum number of transactions are processed successfully while also reducing the overall cost of payments. It also reported that upgrading to a more sophisticated routing system had boosted its conversion rates by 12 percent, which could help its merchants better weather the current economic slump. (Source)
Good read: What is payment routing? | Why your business needs it?
2. All-in-one Dashboard
Having all your payment data in one place has lots of advantages. You can see what's going on with your business and easily spot patterns and problems. You can also quickly implement strategies to improve your business. For example, if you see that many people are abandoning their shopping carts, you can take steps to fix the problem.
Maybe you need to offer more payment options or simplify the checkout process. Whatever the solution, it will be much easier to find and implement with all your data in one place. So if you're not using payments orchestration yet, now is the time to start!
‍3. Tokenization
When a customer provides their credit card information to a merchant, they usually tokenize the card. This means they will replace the credit card number with a random string of numbers, known as a token.
Tokenization is a critical security measure, as it helps to protect customer data from being stolen. In addition, by having control over tokens, merchants can route transactions independently of the payment provider.
This can be beneficial for both the merchant and the customer, as it gives the merchant more flexibility in terms of how they process payments.
Statistics show that in 2017, there were over 1.3 billion credit cards in circulation in the United States alone. Tokenization is, therefore, an important way of safeguarding customer data and preventing fraud.
4. Automatic Reconciliation
Payment managers can use reconciliation tools to automatically cross-check processing events with settlement events. This allows them to spot any inconsistencies in processing fees and payout schedules. Reconciling transactional statements helps to ensure that all payments are accounted for and helps avoid financial losses.
According to an Association for Financial Professionals study, 43% of organizations experienced reconciliation errors in the past year. Automating the reconciliation process can help reduce errors and improve efficiency.
5. Multiple Checkout Options
There are several ways to pay these days—credit cards, debit cards, mobile wallets, etc. And everyone has their preference.
Some people like the simplicity of a credit card, while others prefer the security of a mobile wallet. With a payment orchestration layer, you can make your checkout as diverse as your customers want.
With multiple options like hosted payment pages, drop-in widgets, and payment links for various devices, you can quickly build a branded checkout that makes your customers feel right at home.
6. Simplified Subscription Management
According to recent studies, offering subscriptions can decrease your churn rate and improve your conversion rates. In addition, you can automate and manage recurring billing operations right from your payment orchestrator, including offering discounts and coupon management.
This can help you save time and money while providing a better experience for your customers. Some statistics show that subscription-based businesses have a 96% retention rate after one year, compared to only 36% for one-time purchase businesses.
In addition, 66% of customers say they would be more likely to buy from a company that offers subscription options.
God read: A Comprehensive Guide to Subscriptions Management
7. Enhanced Security
Payment Service Providers (PSPs) must comply with various payment security regulations, including the Payment Card Industry Data Security Standard (PCI DSS). To comply with these regulations, PSPs must implement strict security measures, including encrypting sensitive data and regular monitoring of their systems.
While some PSPs manage these requirements in-house, others outsource this responsibility to specialized firms. Payment orchestration platforms offer an end-to-end solution for managing PCI compliance and other security requirements.
These platforms provide access to secure infrastructure and tools for monitoring and managing compliance. As a result, PSPs can focus on their core business without worrying about the complexities of payment security.
8. No Overhead Development Cost
Payment gateways are essential for any company that wants to conduct transactions online. However, they can also be a significant time sink, especially as your company grows and you have to integrate more and more gateways.
A payment orchestrator can save you much time by allowing you to integrate gateways without writing any code. This means that you can spend your time on more critical tasks than the monotonous task of managing payment gateways.
9. Maximized Conversions
Frictionless payments are becoming increasingly important for online businesses. A payments orchestration layer can help reduce payment failures and provide a better user experience for customers.
This type of layer allows customers to choose their preferred payment method and retry payments if necessary without selecting a new payment method. In addition, it helps to boost conversion rates by simplifying the payment process.
10. Easier Scalability
You're missing out on many potential businesses if you're only managing one payment integration. With more payment options, you'll be able to reach more people and improve the customer experience.
In addition, you'll be able to set up new payment methods and features in less time, which means you can get to market faster. According to a recent study, businesses that offer multiple payment options convert 34% more shoppers into paying customers.
Why Is inai the Best Payment Orchestrator?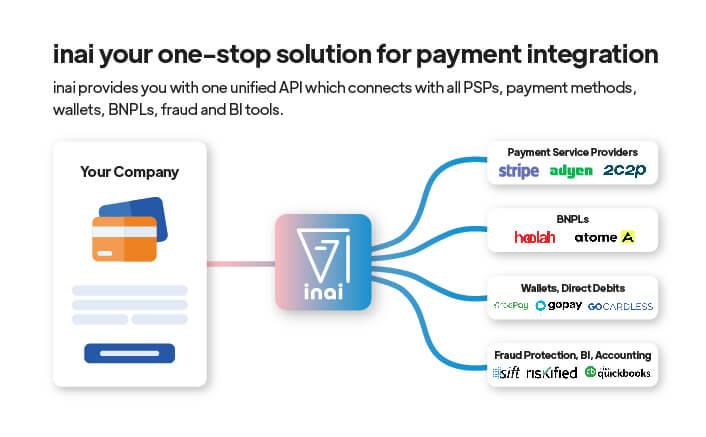 There are many different payment orchestrators on the market, each with advantages and disadvantages. To choose the right one for your business, you need to consider your specific needs and requirements. For example, if you're looking for a payment orchestrator that can handle a large volume of transactions, you'll want to choose one that is scalable and has high capacity.
On the other hand, if you need an orchestrator that can support multiple types of payments, you'll want to choose one that is flexible and has a range of features.
inai meets all the above criteria and more.
1. No Coding Required
inai is a no-coding payment orchestration platform, removing the development time from your engineers. With inai, all customization is abstracted out, so no developer involvement is required once the initial integration and onboarding (which takes about 60 min) is completed.
This means that you'll be able to get access to a range of PSPs without any coding required. So if you're looking for a hassle-free way to integrate payments into your site or app, inai is the perfect solution.
2. Customizable Checkout
With inai, you can accept different payment methods from all around the world. This allows you to cater to your customers' needs and wants. It's one of the many features that inai offers its users. Another great thing about inai is that you can customize your checkouts through payment links, SDKs, or API-based integration.
This way, you can ensure that your checkout matches your brand voice perfectly. Inai is a great platform that offers multiple features to help make your life easier.
3. Affordable
Inai has an outcome-first approach. While other payment orchestrators sit on Third-party tools for subscription management, billing, and fraud detection, We have a built-in tool in place that helps reduce the add-on costs that those third-party integrations incur. Inai also helps expedite KYC/KYB processes for international payments by up to 25%.
Last but not least, with inai's intelligent payment routing, payment data will be sent to a designated payment gateway based on specific criteria, increasing your conversions, reducing cart abandonment, and avoiding any downtime.
Consequently, Inai is much more cost-effective than its competitors.

Anta Pattabiraman
Anta Pattabiraman is the co-founder and CEO of Inai, a global payment stack simplifying native payments within a single integration. Over the last 5 years, he has worked with 200+ businesses ranging from SMEs to Bigtechs.