Payment gateways enable online business owners to accept payments from customers across the globe. No wonder payment gateways have become dramatically popular in recent years.
However, because of too many available options, it becomes hard for business owners to decide which one's the best. If you're going through a similar dilemma, this blog can help. This blog talks about everything from what a payment gateway is, how it works and why you need it to how you can choose the best payment gateway. You can go through the information and make an informed decision for your business.
Key Players in Online Payments
Here are the key players involved in online payments:
Merchant: A merchant is an online business owner who's integrated a payment gateway on their website or app to accept customer payments in exchange for their services.
Customer: Customers are the ones that make the purchase, enter the payment information and initiate the online transaction.
Acquiring Bank: Acquiring bank is the financial institution that processes payments on the merchant's behalf and maintains the merchant's account.
Issuing Bank: Issuing bank or the issuer is the entity or the bank that issues a card or bank account to the customer. This account needs to have sufficient balance to process the transaction successfully.
Payment Gateway: A payment gateway is required for the merchant to sell their services/products online and for customers to enter their payment information and purchase.

Card Brands:

Card brands or schemes are the entities that

issue customers cards (for card or wallet payments) and enable payments between card issuers and merchants. Popular card brands/schemes include Diners Club, UnionPay, American Express, Discover, Mastercard, Visa, and more.
What is a Payment Gateway?
Payment gateways are a technology or service that enables merchants to collect customer payments. Think of payment gateways as the online counterpart for POS terminals used at stores to accept payments via card.
Everything from securely transferring the payment information and checking if there's enough balance in the customer's account to notifying the payment status and transferring the money into the acquirer's (merchant) bank account is managed by a payment gateway.
Usually, merchants can seamlessly integrate a payment gateway (self-hosted payment gateways) into their websites. The customer can enter the payment information and proceed with the transaction without redirecting to any other website.
However, some merchants also use third-party payment gateways. Here, the checkout page redirects the customer to the payment gateways or the bank's website, where the customer enters the payment information. After that, the customer is directed back to the merchant's website.
How Do Payment Gateways Work?
Here's a step-by-step explanation of how a payment gateway works:
1. Entering the information:
Once customers add products to their carts and press the submit button, the website redirects them to a payment gateway. That's when the customer is prompted to enter the payment information like the card number, expiry, CVV, etc.
2. Authorization:
After the information has been submitted, the PG takes the customer to a 3D secure page (added layer of security) or the issuer bank's (customer's bank) page for authorization.
3. Ensuring Sufficient Balance:
Once the transaction has been validated/authorized, the issuing bank checks whether the customer has sufficient balance to complete the transaction.
4. Displaying Messages:
If the balance isn't enough, the payment gateway notifies the merchant (you) with a message, and the merchant, in turn, informs the customer. In this case, the customer can choose some other payment method.
However, a success message is sent to the merchant if the balance is sufficient.

1. Settling the Money: After the success message, the issuing bank settles the payment with the payment gateway, which further settles the money with the merchant (you) within a few days or instantly.
2. Transaction Complete: Once the payment is debited from the customer's bank/card/wallet, the customer is notified with a message indicating the payment has been made and the order has been placed.
Fun Fact: The payment gateway performs all of the above steps in almost real-time within 3-5 seconds.
Why Do You Need a Payment Gateway?
When it comes to physical payment, the customer can offer you cash, vouchers, gift cards, or credit or debit cards that you can use to process payment using a POS machine. However, when it comes to online payment, there's no way for you to confirm if the person entering the payment information is the rightful owner. Even if the user enters the information, the data is always at risk of being stolen. That's when a payment gateway comes into the picture.
A payment gateway is a medium that encrypts and sends the payment information from the customer to your bank and guarantees a safe transaction. Also, it uses OTPs for authentication, which helps ensure the user's identity. In a nutshell, you need a payment gateway to operate an online business regardless of location and ensure secure payments.
Now that you know how vital a payment gateway is, let's help you choose the right one.
Criteria to Look for in Payment Gateway
Here's what you need to look for in a payment gateway: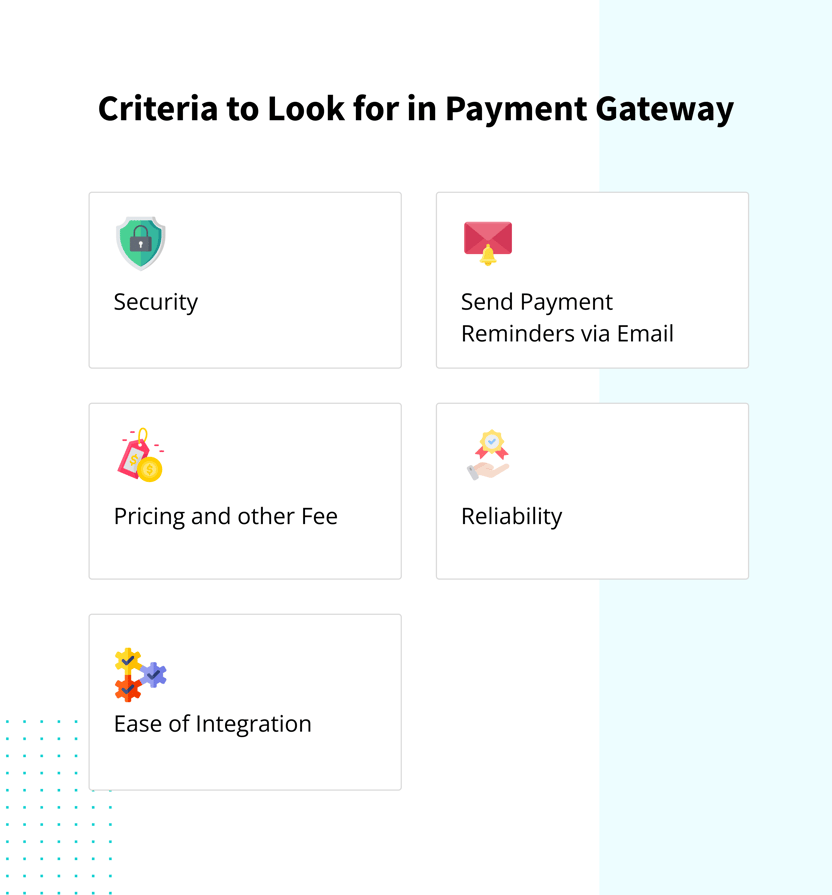 1) Security
Security is one of the most imperative things to consider while selecting a payment gateway. After all, that's how you ensure that you and your customers are protected against fraud. Therefore, make sure that your payment gateway:
Is PCI-level certified
Uses data encryption (HTTPS)
Is 3D Secure
Uses tools for fraud identification and prevention
Offers support if fraud happens
2) Supported Payment Methods
Your payment gateway must support all the payment methods you think your customers will use to pay for your products. For instance, people in some countries like China use Ali Pay which is banned in India. And if you wish to do business in China, make sure the payment gateway supports it.

Common types of payment methods are:

Mastercard, Visa, Discover, American Express, etc.
Amazon Pay, Ali Pay, Google Wallet, Apple Pay

3) Pricing and other Fee
Yet another essential factor to consider is the pricing and other expenses involved. If too many expenses are involved, chances are you might end up losing money, which isn't good for business.

Therefore, always check all the expenses you might incur for using a particular payment gateway. Here are some expenses you may need to compare:

This is the amount you need to pay during the integration of the payment gateway and is a one-time payment.
The annual fee is the rent or subscription amount you pay each year for using the services the payment gateway offers.


When the customer purchases a product and makes the payment but decides to return the product, a refund is to be issued, which is also facilitated by the payment gateway. And the fee charged by the gateway to complete this transaction is the refund fee. Most gateways do it for free, though.
Commission Per Transaction:
Most payment gateways charge a fixed percentage and tax for every transaction they process on your behalf. And this is the most important expense you need to take care of because it may seem small initially but could add up in the long term.
4) Reliability
You must go for a reliable payment gateway. Here are the factors that contribute to the reliability of a payment gateway:
If payments on your payment gateway decline or fail too frequently, it'll force the customer to choose your competitor. And that's something you'd never want. Therefore, go for a payment gateway that has a high success rate.
The UI must be simple and preferably customizable. The simplicity will make it easy for the customer, and the customization will allow you to add your unique brand element.
How quickly your payment gateway responds accounts for reliability too. The faster they are at providing resolution better the reliability.
5) Ease of Integration
Your payment gateway should be developer friendly, i.e., it should not take forever for your developers to get the payment gateway up and running. You can simply visit the payment gateway website and cycle through the integration steps to check this.
Also Read: Why Do You Need Multiple Payment Gateways?
Payment Gateway vs. Payment Processor
People often confuse payment gateway with payment processor and use these terms interchangeably. While these terms sound similar, they're different. Here's how:
A payment gateway is a service that acts as a middleman between the merchant and the customer. The customers interact with the payment gateway and enter their payment information. And the payment gateway, in return, authenticates and displays a success or decline message (more on how a payment gateway works later in this blog).
Examples of payment gateways: Stripe, 2Checkout, Skrill, WePay, Razorpay, and more.
The payment processor is also a service like a payment gateway, but its primary goal is to help move the funds from the customer's account to the merchant's account. The payment processor ensures all parties, including the merchant, card issuer, and card networks, get paid.
Examples of payment processors: PayPal, Square, Payline Data, Adyen, Authorize.Net, and more.
Benefits of Using a Payment Gateway
Here's how merchants benefit from using a payment gateway:
1) Businesses Can Expand their Customer Base
A local brick-and-mortar store usually attracts customers only from the city they're located in. They'll have to go online to expand to other cities or countries. And what's the best solution for accepting online payments? A Payment gateway.
With a payment gateway integrated into your app or website, you can sell your services to customers across the globe. Customers can choose whatever payment method they find ideal, thanks to payment gateways, and make the payment. This way, you can expand your customer base and, thus, your business.
2) Time-Saving
At traditional brick-and-mortar stores, customers must stand in line to swipe their cards or pay using cash. This process is not only time-consuming but tiring for the customers. However, a payment gateway helps tackle this problem effectively.
Using a payment gateway, thousands of customers can process payments almost instantly, which saves merchants time and customers the hassle of waiting in line. This way, merchants can make more sales and improve their conversion rate.
3) Adds to the Convenience
A traditional brick-and-mortar store can't operate 24/7. They have to take breaks and close the store at night. While this is normal, it impacts the total revenue they generate.
However, if you take your business online and integrate a payment gateway, you can sell 24/7. Whether it's 5 in the morning or 11 at night, customers can make purchases as long as the website or mobile app is live. This keeps the dollars rolling in while also adding to the convenience of the customers.
Different Types of Payment Gateways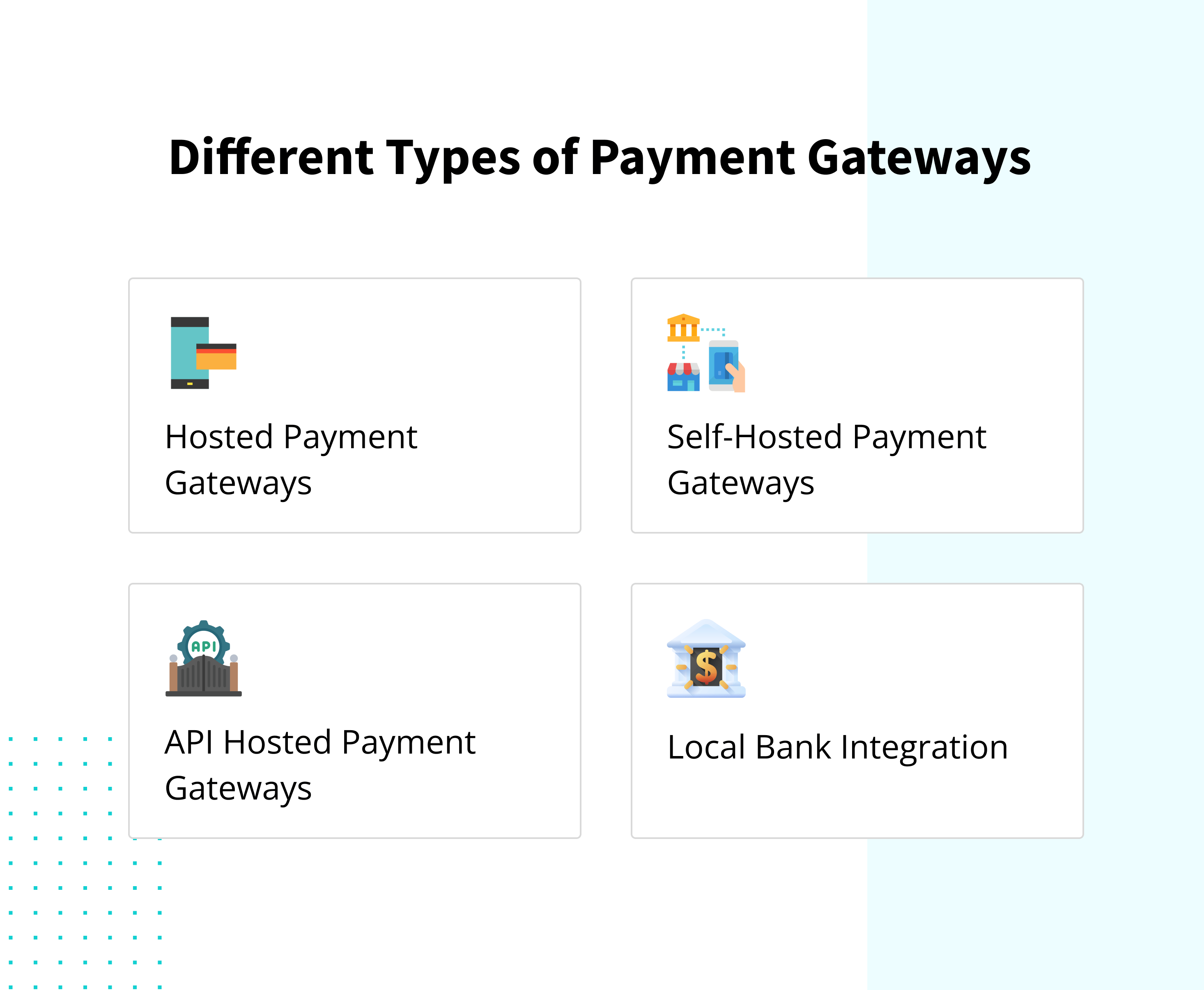 When selecting the right payment gateway for your online business, many options are available. Consider which is best tailored to your business needs and technological framework—self-hosted or full-package service. Additionally, be mindful of how much maintenance each requires, depending on whether you require an involved setup process or prefer a more hands-off method from the provider.
1) Hosted Payment Gateways
In hosted payment gateways, customers are redirected to your website's payment service provider's checkout page. The customer enters their details and makes the payment. After that, the customer is returned to the merchant's website, where the checkout process is completed.
2) Self-Hosted Payment Gateways
Self-hosted payment gateways offer a better customer experience as no redirection is involved. The customer can enter the payment information directly on the merchant's website. After that, the payment information is encrypted and sent to the payment processor for further processing.
3) API Hosted Payment Gateways
Like self-hosted payment gateways, API-hosted payment gateways allow customers to enter their payment information on the merchant's website. However, API-hosted payment gateways are customizable and enable merchants to customize/personalize the customer checkout experience, which is an advantage.
4) Local Bank Integration
In Local bank integration gateways, customers are redirected to the gateways or the bank's website, where they can enter their contact and payment information. Once the details are submitted, the customer returns to the merchant's website.
How to Integrate Payment Gateways?
Now that you know what a payment gateway is and its advantages, let's help you integrate one into your website. However, you must understand while integrating a payment gateway will allow you to accept and manage online payments, relying on a single option may not be the best choice. Why?
If you integrate one payment gateway, you can only expand to the locations the payment gateway supports. Also, you'll be able to offer a limited number of currencies and payment methods as supported by a payment gateway. Moreover, if there's downtime, you may be unable to accept payments at all, which can be detrimental to your business.
So, what should you do to avert these issues? Well, you can rely on a payment aggregator such as inai. With inai, you can integrate 30+ payment gateways, support 190+ currencies, and offer 300+ payment methods. This way, you can scale, expand as you want, and switch to other payment gateways if one stops working.
Here's how you can integrate payment gateways and start accepting online payments using inai:
1. Create an Account
Visit inai's website and scroll to the bottom. You'll find a "Get Started" button. Click that button, enter the required details and create an inai account. You can also refer to this account setup guide for further help.
P.S. Make sure you have an active payment processor account. You'll need to add that account to inai's dashboard.
2. Connect your Payment Processor
Once you've created an account, visit the "

Integrations

" page in the inai dashboard.
Click "Add integration" and choose the payment processor you have signed up for or select payment method integration.
Follow the instructions and enter the required details.
If you want to add multiple gateways with the same processor, you can set different names/aliases, such as Stripe-Production, Stripe-Live, etc.
Click the "Save and Integrate" button and select all the payment methods you want to offer your customers. Note. The payment methods displayed are the ones inai supports. You must check with your payment processor if they've enabled those in your merchant account. Only if they've enabled them will you be able to process payments via those payment methods.
Click the "Complete Integration" button and start building your checkout.
3. Build your Checkout
To start building your checkout, visit the "Checkout" section.
Click "Add Region" and choose an appropriate country, i.e., where you would like to offer your services and personalize the checkout experience.
Note. Let's say you want to cater to customers from the USA and India. You can create different regions and a personalized checkout experience for both USA and India. And for the rest of the world, you can select "Default" as a country and offer a standardized checkout experience to the rest of the world.
Select a payment method you want to offer at checkout.
Now, select the payment processor. This payment processor will process all the payments via the payment method you chose earlier.
Repeat steps 3 and 4 for all the payment methods you want to support.
Once done, hit "Save and Publish."
4. Configure Checkout Settings (Optional Step)
You can customize the following settings for a better checkout experience:
Location: This option will allow your customers to modify their location.
Language: Customers can update their language when checking out. They can also set a default language for a particular country. This will improve the checkout experience when the customer purchases next time.
Display Fields: You can add or remove the fields or make them optional/mandatory based on your needs.
Order of Payment Methods: you can also tweak how the payment methods appear when the customer checks out.
If you wish to use the above options:
Hit the "Configure" button in the Checkout menu.
Tweak the language and location control at a global level.
Change the regional-level settings to be displayed for a single country. Here's how you can do this:
Select the country you want to edit.
Select the default language that'll be visible to the customers.
Reorder the payment methods at checkout
Click on a payment method to view the optional and mandatory fields.
Once you're done, 'Hit' save.
How Can inai Help?
Over the years, inai has gathered sufficient experience to provide a seamless customer experience, especially when handling multiple payment gateways. Each payment gateway is dealt with individually to ensure the best possible outcome is available to the customers and the business. With consolidated reporting, offering all local payment methods, routing facilities, and detailed analytics at your disposal, you can trust inai with your business's payments to receive unhinged customer experiences for all your customers.
Choose inai to manage multiple payment gateways so your business can concentrate on what they do best.