If you are running an online business, you already understand the importance of requesting and accepting payments from customers on the Internet. Most times, if a customer does not have a seamless payment experience while shopping on your platform, they will not return a second time, or worse still, they might abandon their purchase midway.
When you want to provide a hassle-free payment experience to your customers, you must jump through many technical hoops to ensure a limited set of issues during the checkout process.
Integrated payments are just a critical aspect of this setup, and an online business can't negate the relevance of these payments within their daily work.
When one talks about integrated payments and their relevance in the online world, it's hard to overlook the role of orchestration platforms such as inai. Inai is a renowned payment orchestration and integration platform that performs a variety of tasks, such as dynamic payment rerouting, missed payment reporting, abandoned cart losses, and much more.
So, what are integrated payments, and why are they necessary for every online business?
Integrated Payments and Their Relevance

Integrated payments and their relevance can't be undermined within an online business's pursuit of excellence. While the words Integrated Payment might be flashed around, it's important to understand what it means and why it's essential for your business.
An integrated payment connects all payment systems with other components of your business, which includes time savings, enhanced productivity, and improved customer satisfaction.
Integrated payments are not restricted to handling credit and debit cards only. Integrated payments revolve around analyzing revenues and managing customer expectations. Let's understand this concept with an example.
When you are dealing with online products and services, it's essential to understand the nuances of what's involved with debit and credit card processing. At the end of a business day, you would need to save all your receipts for the day and reconcile them before entering the information into your accounting software. Only post reconciliation does your accounting system pick up the data.
Now, imagine how this process can be done automatically.
All in all, there are a lot of steps, and a payment integration process is necessary to bring all these factors to life.
Some added benefits include:
Streamlined operations that allow you to bypass manual processes, save time, and reduce errors.

Better online presence for customers shopping from your store.

A seamless payment integration ensures better customer management, payment processing, and a smooth checkout experience for all involved parties.


Why Should You Associate With inai for Payment Integration Needs?

Many payment aggregators are in the market, but you must associate with the best service providers, especially if you have an online business. We at inai excel in handling multiple payment providers and currencies from one platform.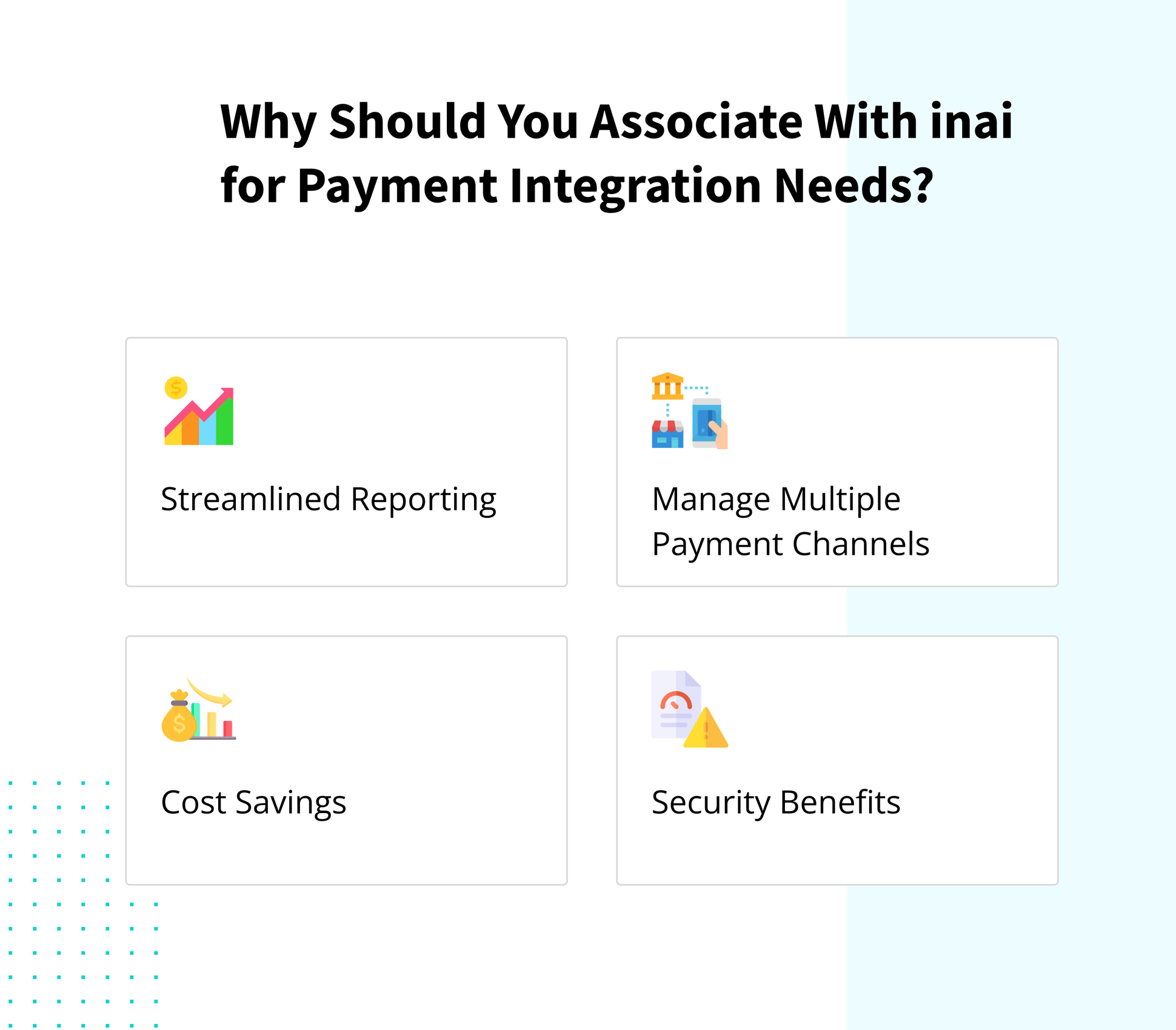 Here's why you should consider us for your payment integration system:
1. Streamlined Reporting
Always be on top of your game when dealing with multiple payment gateways. Collecting regular reporting on payment routing, payment errors, currency exchanges, merchant payments, etc., is challenging. However, when you have a payment aggregator like inai by your side, all these reporting woes are put to rest immediately, and you can receive regular reports in a fraction of a second.
2. Manage Multiple Payment Channels
We do everything from managing various payment gateways to handling routing requirements dynamically. You always have the option to integrate your payment channels with our existing payment infrastructure. You can integrate your existing payment channels as well as new payment gateways without getting into extensive code changes. Simplicity at its best.
3. Cost Savings
While we handle all your overhead jobs, additional cost savings are associated with this integration. Your online business can streamline the internal payment processes, have well-demarcated integrations with multiple providers, reduce fraud, and decrease chargeback volumes, resulting in cost savings.
4. Security Benefits
Finally, you can enhance your security by centralizing your data management processes and implementing fraud detection policies and procedures to reduce fraudulent transactions.
Each security measure in our company complies with different regulatory and financial standards; you can rest assured you will always get a safe business platform for your business and customers.
inai uses best-in-class security tools and practices to maintain a high level of security to accomplish its payment protection standards. inai's certified as a PCI Service Provider Level, which is the highest, most stringent level of certification in the payment domain.
To ensure maximum privacy for the customer's credit and debit card info, everything is stored on an entirely separate network infrastructure with a separate decryption key. All relevant PII is encrypted, and the encryption type is AES 256-bit encryption.
Good Read: How to Integrate Payment Gateway(s) With inai?
Our payment dashboard is relatively straightforward, and you can begin accepting payments post-integration within days.
Here are two major prerequisites before accessing our dashboard:
Create your account: The first starting point is to create an account for your business.
Payment processor account: You need a valid payment gateway account with a processor of your choice, which you can configure with our dashboard.
Once you finish the prerequisites, it's time to configure your payment processor. Here's how you can do this simple yet effective task:
1. Connect your payment processor:
Go to the Integrations page.
Click 'Add integration'; select your payment processor from the list.
Follow the on-screen instructions to add any relevant information to secure the connection.
Feel free to set an alias for your payment gateway connection before hitting the 'Save and Integrate' button.
Finally, click the 'Complete integration' button to finish the process.
2. Build your Checkout
To build your checkout page, do the following:
Go to Checkout.
Select 'Add region.' There are two options here. You can use the Default option to set up a standardized Checkout model. Alternatively, you can choose a specific country and design your checkout page accordingly.
Select a payment method and the payment processor. Remember, you can set up multiple payment processors if they are available in the selected country.
Once done, hit 'Save and publish.'
3. Configure Checkout Settings
This is an optional step, so if you feel you want to do this, you can configure the checkout settings with these steps:
Location: This allows your customers to change their location.
Language: Your customers can update their preferred language and make it visible to them.
Order of payment methods: Reorder the various payment methods visible to your customers.
Display fields: Set the mandatory data fields visible to your customers.
4. Customization and Branding Options
When one looks at a payment aggregator, it's essential to keep the features and functionalities in mind. However, it's not easy to look over the aesthetics, as an online brand has to rely on the usual aesthetics to create an image in the minds of its customers.
For example, when customers visit your website, they should see your brand's logo to familiarize themselves with what and who they purchase from.
We at inai take pride in our customers' endeavours and offer a few subtle yet helpful customization options to make your brand stand out. Some of these features include:
Your brand's payment experience will match your brand identity. This will help the customer take stock of their purchases and walk away with a pleasurable experience.
You can customize your payment and checkout pages with different options, such as location, language, payment methods, order, and the various display fields to make them attractive and relevant to the customers.
Some additional branding options include adding a company logo or personalized color palette during the payment process to help it resonate with your brand's look and feel.


Setup Your Payment Gateways With inai
We at inai thrive with our customers' success. When you are bogged down with handling multiple payment gateways for your business, you should head to a payment orchestration company.
This is where inai steps in. There are some specific benefits to your association with us as your payment aggregator:
Streamlined Reporting
Handle Multiple Payment Gateways From One Platform
Security-Compliant Payment Services
Support For Multiple Currencies
Cover Multiple Payment Methods
If you seek help with your payment services and want to associate with the best, create your account with us today and see the difference.