It's common knowledge how various online platforms are expanding their horizons and pushing boundaries to make customer experiences seamless. Online business portals rely on payment gateways to facilitate payments without incurring hiccups.
Payment gateways form a bridge between the customer and merchant's accounts, so the transactions flow smoothly from one end to another. However, since this is a technology-dependent solution, there are plenty of situations wherein customer experiences are compromised, leading to payment hassles, rejected payments, and ultimately, customer dissatisfaction.
Also Read: What are the most popular alternative payments in South East Asia?
Why Do You Need Multiple Gateways?
Since no one is immune to downtime, relying on a single payment gateway to send and receive payments is unfair. As per a recent survey, almost 61% of companies confessed to facing outages twice a year. Companies are employing multiple payment gateways to mitigate their losses and avoid any inherent payment-related problems to overcome such issues. The necessity to use multiple gateways is not limited to ensuring that payments are sent and received without default. It is also relevant to provide an outstanding customer experience and maintain loyalty.
Here are some reasons to use multiple payment gateways within platforms: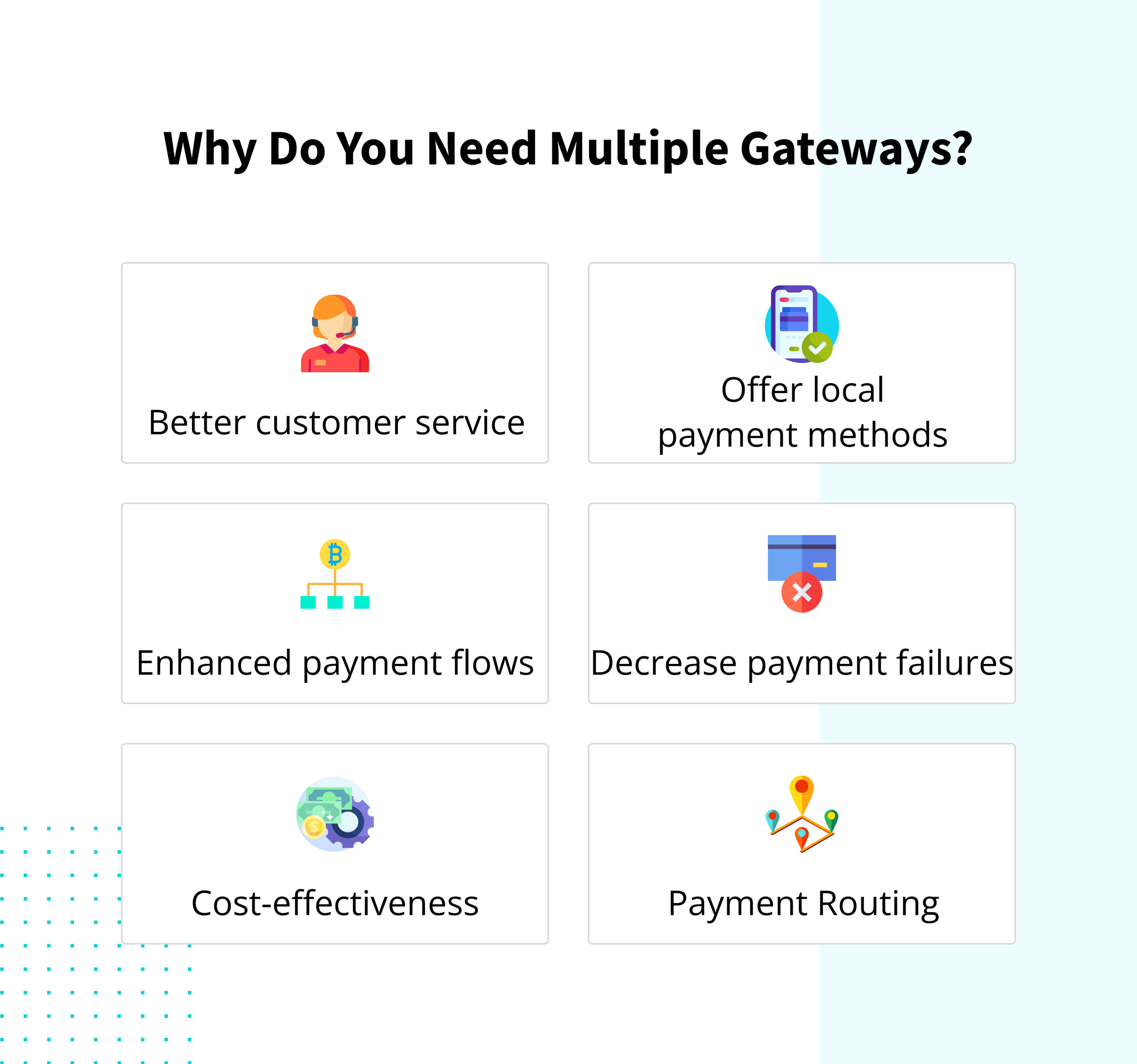 1. Better customer service:
Customers like options; what can be better than suiting their payment preferences to assist with their shopping experiences? Customers search for options and prefer a seamless transaction experience when shopping online. By offering multiple payment channels, your business can cater to every need and create belonging in the customer's mind since payments are more accessible than before.
2. Offer local payment methods:
If you're expanding your services abroad, you need to provide international and local payment options to customers to help them with their shopping experiences. You can expand your horizons and work seamlessly with customers by facilitating payments in local currencies. By providing domestic currency checkouts, you can cash in on the familiarization element, which is an important aspect of customer retention and sale.
Customers don't want to engage in endless conversion tactics, especially when they aren't aware of the conversion and hidden charges offered by various payment gateways.
3. Enhanced payment flows:
Multiple payment gateways provide various options for conducting online transactions. This includes varying fee structures, faster turnaround, and better customer conversion. Transferring payments from one account to another and switching payment gateways make it easier for customers to make payments from their accounts. On the contrary, businesses can access their payments without incurring extra charges.
4. Decreased payment failures:
‍Payment failures affect customer experiences; imagine you are making an online payment, which gets declined during checkout. There is an endless level of frustration linked to declined online payments. Not only do you lose your customers, but it also leads to a decrease in revenue, which is counterintuitive for an online business. Having multiple payment gateways can assist in retaining customers and maintaining a good shopping experience by offering them alternate payment methods.
In downtime, customers can switch and pay through their preferred payment channels.
5. Cost-effectiveness:
‍When dealing with foreign exchange rates, you need to mitigate conversion charges and make the most out of the current rates. It's noteworthy how the merchant discount rate changes from merchant to merchant. Merchant discounts and successful conversions are two parameters every online business should focus on, especially when the intent is to maximize profits and reduce costs.
A payment facilitator like inai has algorithms that can route your payments from one merchant to another, depending on the conversion rates and available merchant discounts. Such a real-time arrangement is easy to handle and offers the best possible outcomes for the end customers (online business).
6. Payment Routing:
When dealing with multiple payment gateways, you always have an option to choose the vendor offering the best rates and conversion possibilities. In other words, a payment platform that performs well with the local authorities and norms should be integrated to maximize customer conversions.
Routing is cost-effective, as you can play with the market fluctuations and route payments to accounts offering the lowest rates in a real-time environment.
Problems With Integrating Multiple Gateways
Integration hassles: There are a lot of issues when a business wants to integrate multiple payment gateways within its platform. If you manage various gateways together, tracking the structure and pricing they offer to the end customers isn't easy.
Most commonly, businesses face the following integration issues:
Lack of a skilled workforce and a dedicated resource to monitor transactions and currency shifts

No technical know-how to accommodate API changes

Tracking technical requirements and converting them into feasible solutions

Monitoring multiple merchant gateways to capture evident discounts and payment solutions
inai is designed to help you integrate multiple payment gateways in a few clicks without worrying about endless complications and never-ending integration hassles. Each integration limitation is tested to create a hassle-free environment for businesses.
There is always a scope for improvement since businesses can make seamless transactions in real-time.
1. Cumbersome management:
Administrative integrations form an integral part of any payment platform. Imagine how much time, effort, and resources a business needs to dedicate to managing multiple customers, products, and payment channels. Additionally, navigating the need to hire dedicated resources to handle such tasks is difficult.
inai brings such integrations closer and lets you concentrate on what you do best without worrying about the administrative tasks associated with managing payments.
2. Maintenance issues:
‍Platform maintenance continues to be challenging for every online business. When working with multiple gateways, there are inherent chances of suffering downtime due to technical glitches.
Additionally, with the concept of APIs taking precedence, a lot of businesses are focusing on easing their online transactions through this integrated methodology. However, to stay abreast with the technical changes, there might be changes in merchant APIs, which would render your existing arrangements null and void. This leads to an unending downtime, till the time the issue is not resolved and the new changes are taken into consideration.
Since downtime does not come with a well-established ETA, you would often find yourself worrying about the uptime and the impact on your customers' experience. inai's static and dynamic no-code drag-and-drop facilities make your life easier. With two in-built methods to track outages and reroute payments to active servers, you can customize your backup plans and create maintenance arrangements, so there is no downtime with your platform.
Alternatively, you don't need to have a dedicated resource to make the required changes to the existing algorithms, as inai's workflow has got you covered to maximize your success rates.
Also read: What is the difference between 2D and 3D payment gateway?
3. Engineering requirements:
‍Specific integrations require a skilled workforce and long periods to perform complex integrations. Such resources come at a high cost, which can burn a hole in your pocket. You need to invest a considerable amount of time and effort to ensure all loopholes are plugged in and you are able to maximize returns in the best possible manner, given the existing workforce.
inai's workforce is already equipped with the best resources and adept at handling such integrations, offering customized solutions to meet the most challenging demands of payment integrations.
4. Streamlined Reporting:
‍Each payment gateway comes with reports that target different parameters and customer behaviors. However, as an online portal, it would be challenging to analyze each report to draw meaningful analysis. To make quick, effective decisions in the short and long run, it's essential to work with collated reports. Such reports target specific customer aspects, ranging from payment patterns to declined payments and customer spending.
Such factors can create avenues for enhancing revenues while addressing customer needs and increasing customer retention.
5. Payment routing:
‍Finally, payment routing is a task that involves monitoring the different payment facilitators to ensure your business gets the best available rate. When multiple gateways are integrated into your platform, you need to spend considerable time and effort tracking payments, the conversion rates available with each vendor, and the best possible time to withdraw the funds.
inai, as a payment aggregator platform, performs all such tasks for you to ease your workload. You can create extensive payment routings, depending on your requirements. For experienced professionals, there is an option to code and route payments with APIs. If you don't have the required technical expertise, you can make use of the no-code option to do your bidding.
On the whole, inai offers a series of routing options to the end-users. These include the following:
Static routing:

You can route payments based on the payment method/country/BIN/card and brand basis. This helps optimize and increase the transaction success rates or fees.

Dynamic routing:

With the dynamic routing process, you can route payments on a payment method/country basis, each of which depends on various factors, including success rates ( average and recent), transaction costs, payment method, or PSP availability.

Custom API routing:

Finally, you can create configurable and customized routing logics using API overrides to address your complex use cases. This is strictly for technically proficient people, who are well aware of the APIs nuances.
How Can inai Help With Handling Multiple Payment Gateway Integrations?
Now that you know what to look for in a payment gateway, you can make an informed decision.
However, unfortunately, you might not be able to find all the features you want in one payment gateway. There would always be something you'll have to compromise with. For instance, if one PG offers good technical support, their transaction fee will be higher, and if another PG offers less, you may have to experience poor support. So, how would you deal with that?
Well, that's when inai comes into the picture. inai is a well-known payment aggregator platform that can help you integrate over 50 payment gateways, both domestic and international, on your website, saving you engineering costs and time. Also, with inai, you can improve your customer checkout rate by 60% by allowing the customers to choose/select the payment method of their choice. You can even customize the checkout experience for your customer and direct them to the payment gateway based on several factors such as gateway fee, success rate, etc.
For instance, if PayPal charges a higher fee than Amazon Pay for card transactions, you can enable Amazon Pay for card transactions and use PayPal for all other transactions. And if you find that a particular gateway has a better success rate than others over time, you can make it default. All this with a flick of a button. One of the most amazing things about inai is its near-code-less integration. The only time minimal coding is required is when you're integrating, which takes under 60 minutes. And after that, you can customize anything and everything without touching any code. Now, how can you beat that?
So, if you wish to save heavy engineering efforts, time & money and want to ensure a seamless payment experience for your customers, reach out to inai now.