As an online business, you need to accept various payments in multiple currencies globally. Keeping track of transactions between your merchants and customers can be difficult, but a payment orchestration platform enables your business to take control of your incoming and outgoing payment transactions. This way, you can ensure that all transactions are processed smoothly and efficiently without any hitches.
What's a Payment Orchestration Platform?
A payment orchestration platform integrates seamlessly with various payment sources, allowing you to manage multiple payment gateways from one platform. Additionally, you can handle payment authorizations, transaction routings, and settlements in a single go.
Since a single platform manages every transaction type, you can reduce the volume of failed payment transactions while enhancing customers' experience on your website. Let's discuss some benefits of using a payment gateway.
Good read: Why your business needs a payment orchestrator?
Benefits of Using the Payment Orchestration Platforms
A good payment orchestration platform automates numerous tasks in managing payments, such as issuing invoices, processing payments, and reconciling accounts.
Here are some other benefits to take note of:
1. Improved Scalability and Integrations
Businesses are expanding steadily and making their presence known in various locales and markets. When your business ventures into new territories, you need to know the different compliance and regulatory standards to make the most out of your current market standards.
A payment orchestration platform takes care of all such procedures, so you can concentrate on what's essential for your business. You can utilize the flexible payment architecture to use third-party provider APIs to launch various payment options relatively quickly. The system structure tunes into the local laws, so that end customers are always protected.
2. Smart Routing of Payments
Payments are the bread and butter of an online business. When dealing with multiple payment sources, currencies, and channels, you must employ a platform to route payments between merchants and customers.
A payment orchestration platform lets you gain extensive control over your payments. For example, you can funnel your payments to the best merchant to make the best of the currency exchange rate.
Good read: What is payment routing? | Why your business needs it?
3. Advanced Analytics and Reporting
What drives a business? Your ability to make meaningful, well-informed decisions and timely responses play an essential role in the progress of your business model. All this is possible with the right insights into your business's performance, spread across all markets and sectors. Most top-notch payment orchestration models provide detailed reporting and analytics to help you make the right decisions based on relevant facts and figures.
7 Best Payment Orchestration Platforms You Must Know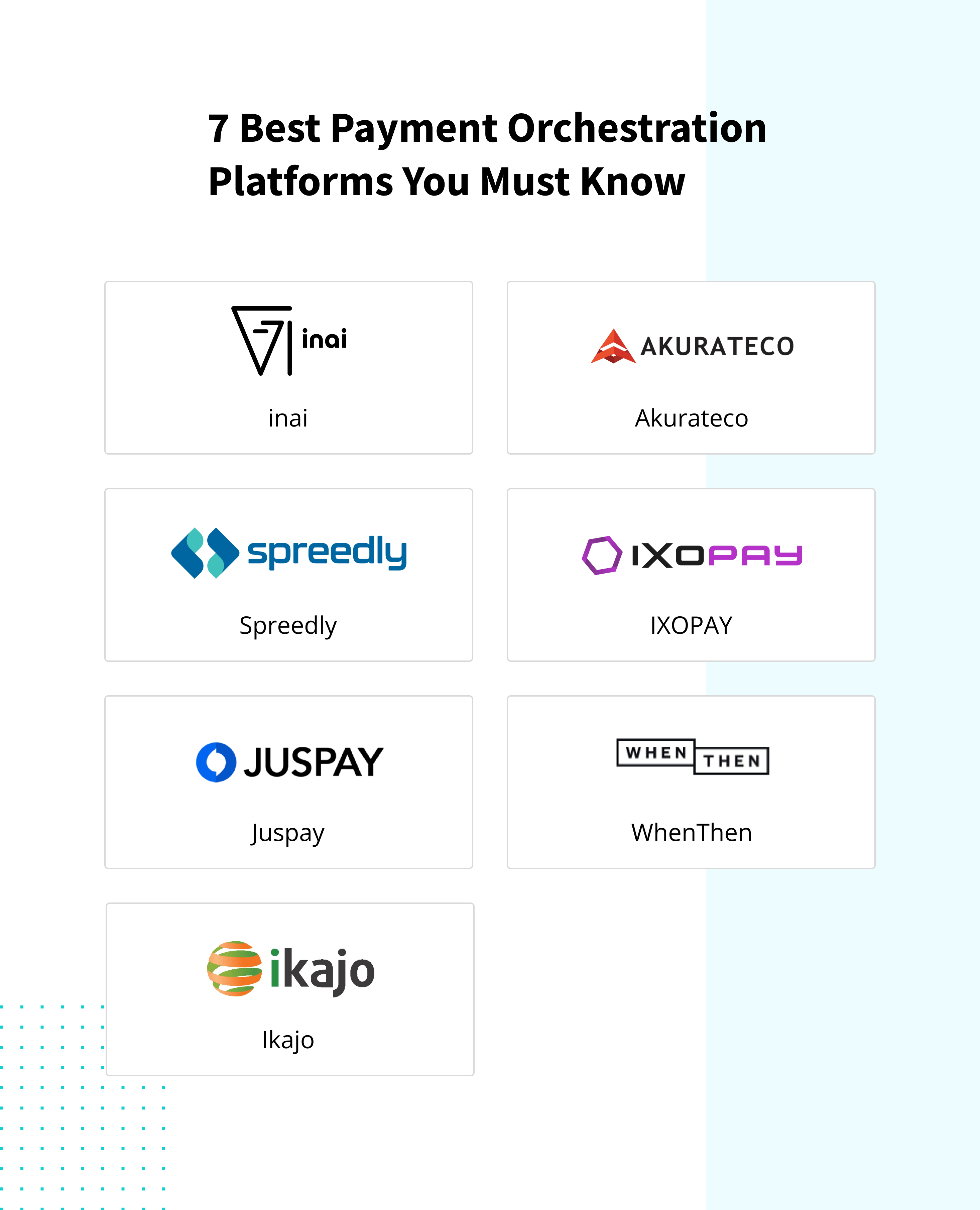 Various payment orchestration platforms come with pre-built connectors to integrate with your accounts and ERPs. Such platforms integrate with your POS systems and accounting software to provide an excellent payment facility to businesses and companies.
Their robust security features, like two-factor authentication, SSL encryption, etc., help you protect your data from unauthorized access.
1. Inai
Inai is an automated payment orchestration platform that helps businesses manage their payment processes across vendors, suppliers, partners, and customers.
inai is your go-to solution to automate your payment process, as it offers a flexible, customizable payment orchestration model for your business. The payment aggregation platform offers a real-time dashboard with a single view of your entire cash flow. With inai's flexible pricing model, you can choose users and subscription plans per your business needs.
Integrate inai's platform with 50+ payment gateways and offer 300+ payment methods with no-code integration.
A few other key service features include:
Integrations with any industry
PCI Compliance
Refund Management
Route payments through simple drag-and-drop UI

Key strength:
Single integration that provides coverage of cards and local payment methods across all six continents.
Offer localized checkout experiences across geographies without writing a single line of code.
PCI-compliant vault to store sensitive payment information and provide one-click/fast checkout services.
Drag and drop UI to add payment methods, run A/B test, and configure routing logics.
Ability to support complex use cases ( payouts, marketplaces/platforms, recurring billing).
Reconciliation: Single dashboard to manage transactions, refunds, and chargebacks.
Advanced Analytics: Insights on transaction success rates by payment method, vendor, country, etc. Additional Insights on failures by vendor, payment method by the source of failure.
Set up alerts to notify payment/product teams on outliers in terms of failures.
Seamless global payments experience, including coverage of non-card and alternative methods in the EU, Asia, Middle East, Latin America, and Africa
Speed of integration and time to market. Go live in 1-2 weeks.
Settlement Recon and payment fee insights(Coming soon): Single dashboard to enable reconciliation of funds between transactions and payment gateway receipts — plus an overview of transaction fees paid.
2. Akurateco
Akurateco is a multi-channel payment orchestration software offering a seamless, fully automated, integrated payment experience. You can use its centralized dashboard to manage payment processes across vendors, suppliers, partners, and customers from a single location.
Feel free to configure your payment process, rates, and payment methodologies easily. Additionally, Akurateco's robust security features, like two-factor authentication, SSL encryption, etc., protect your data from unauthorized access.
Key service features:
Akurateco has a robust and user-friendly interface
The platform has a pre-built connector to integrate with your accounts and ERPs
The payment orchestration works seamlessly with POS systems and accounting software
3. Spreedly
With Spreedly, you can accept payments from your customers through various digital channels. Its user-friendly interface comes with pre-built connectors to integrate with your business accounts.
Spreedly's flexible pricing model allows you to choose the number of users and subscription plan per your business needs. Some additional features include fraud detection and risk management algorithms to mitigate chargeback and payment dispute risks.
Key service features:
Easy connectivity with PSPs
Integrate into your existing payment gateways
Connect with global payments systems with their API
Good read: Payment Gateway not Authorized with RBI's Payment Aggregator License? | Here's What you Need to Do
4. IXOPAY
IXOPAY is a perfect solution for merchants looking to invest in scalable, PCI-certified payment orchestration platforms. With their modern, scalable architecture, you can streamline and automate your payment operations, to efficiently manage and route payments.
IXOPAY provides:
Intelligent routing
Cascading
Centralized reconciliation and settlements
Plug-in-based integration of acquirers and payment service providers
5. Juspay
Juspay is a leading provider within the payment orchestration category. It allows you to streamline your payment processes and improve your customer experience as a merchant. Juspay enables merchants to accept payments from any source, including credit and debit cards, e-wallets, and bank transfers.
As a merchant, you can quickly issue refunds, track payments, and manage customer data.
Some key service features:
High-level protection to maintain security standards and compliance regulations
Bank OTP auto-processing
know more: inai vs Juspay
6. WhenThen
WhenThen is a no-code payments platform that makes it easy to automate your manual processes. With WhenThen, you can quickly connect your systems and data to focus on your core business.
As a payment orchestration platform, it offers a simple drag-and-drop interface to easily create and edit your flows. Additionally, you can access a complete audit trail of your payment flows to track your data usage. Its suite of powerful tools helps merchants manage their payments, including fraud prevention, dispute management, and real-time reporting.
Merchants can focus on their business, not their payments.
Key service features:
Drag-and-drop interface with no-code
A/B testing scenario simulation for testing
7. Ikajo
Ikajo is a payment orchestration service that enables businesses to streamline and automate their payment processes. Companies can connect to multiple payment providers and systems, allowing a more efficient and streamlined payment process. In addition, Ikajo provides businesses with a comprehensive suite of tools for managing and reporting their payments. This way, you can optimize your payment processes and improve your bottom line.
Key service features:
International payment gateways
Chargeback prevention and fraud systems
Conclusion
Payments can be complex, and you need a simplistic yet powerful tool to manage these transactions across various levels. Instead of spending endless time, effort, and money managing payments from customers and merchants manually, you can use a payment orchestration platform to do the needful. Stay ahead of time, and use the latest technology to process your payments efficiently.