Indian consumers have come a long way from subscribing to a newspaper vendor or a milkman to heavily opting for monthly shaving supplies or supplements and OTT platforms such as Netflix, Amazon Prime, Sony LIV, Disney Hotstar, and whatnot. They no longer believe in owning things and wish that they could own less and subscribe more. But why is this happening? Why are subscriptions becoming increasingly popular among Indians? Read along to find out.
This blog discusses the factors that led to the success of the subscription model in India, why businesses must opt for a subscription model, why Indian consumers love the subscription model and different types of subscription models.
How did the Subscription Model Establish a Foothold in India's Diverse Landscape?
1. Customer Centricity
Customer centricity is one of the biggest reasons why the subscription model became popular in the Indian market. Take OTT platforms, for example. They offer a variety of plans with varying features and prices, allowing customers to choose what's best for them, and increasing personalization by keeping customers at the centre. No wonder Statista expects the number of OTT users to touch 528.9 million by the year 2027.
2. Growth of eCommerce
The growth of eCommerce in India, especially during the pandemic, has been exponential. For instance, the market size of the e-commerce industry rose to 84 billion in 2021 from just 30 billion in 2020 and is expected to touch 200 billion by 2027. All this is happening because of an increase in the variety of products/services, payment options, and a seamless purchasing experience, eventually motivating Indian consumers to opt for subscriptions.
3. Transition to Digital Payments [UPI]
The availability of digital payment options such as Google Pay, BHIM UPI, and Paytm has made it easy for Indian consumers to purchase online. And as internet penetration is increasing in India, consumer preferences are changing, enabling them to access and pay for the services they need within seconds.
4. Increased Spending
The spending power of Indians, both from urban and rural-urban regions, has increased over the years. Thanks to higher income levels and urbanization, which are also responsible for boosting subscriptions in India. Moreover, higher spending power is expected to impact the Indian economy positively, which is predicted to touch $5 trillion by 2026-2027.
Good read: Top 7 Tools for Managing Subscriptions in India
Reasons Why Entrepreneurs/ Startup Companies Are Pivoting Toward Subscription Model
Here's why aspiring businesses are opting for the subscription model:
1. Positive Impact on Cashflow Management
Unpredictable revenue can negatively impact your cash flow management. Because you would need to find out for sure how much money is going to inflow in the coming months. And this makes cash flow management hard.
However, subscription business models allow you to predict your revenue each month. This way, you can know how much money will flow this month or the month after, enabling you to manage the cash flow better. And when you manage your cash flow better, you can efficiently deal with future monetary repercussions, if any.
2. Increased Customer Loyalty
Customers are lazy but want an uninterrupted experience whatsoever. And that's exactly what the subscription model can help you achieve. With a subscription model in place, customers can subscribe to your service instantly by paying a small amount each month, saving them time. In addition, if they want to upgrade or downgrade their service, they can, within a few clicks. This ensures a seamless customer experience and improves customer loyalty, which, needless to say, is an asset for any business.
3. Easy Personalization
Unlike regular models, subscription models allow a lot of personalization. For instance, the customers get enough options for choosing the right subscription. They can choose a more extensive plan if they want more features and a smaller plan if they want fewer. This personalization offers the customers freedom, making them stick to your business for a long time.
4. Effective Demand Forecasting
If you're selling a physical product like shaving items, cakes, etc., you need to know what the demand will be like in the coming months. After all, that's how you will meet the demands of your customers. And a subscription model makes that possible. Using the right data, you can understand your customers' buying patterns. This will help you forecast the demand for your product, enabling you to upscale or downscale your production accordingly.
Look at : https://inai.io/subscription-management to understand how you can manage and optimize your subscriptions with inai
Why Are Indian Customers Opting for A Subscription Business Model?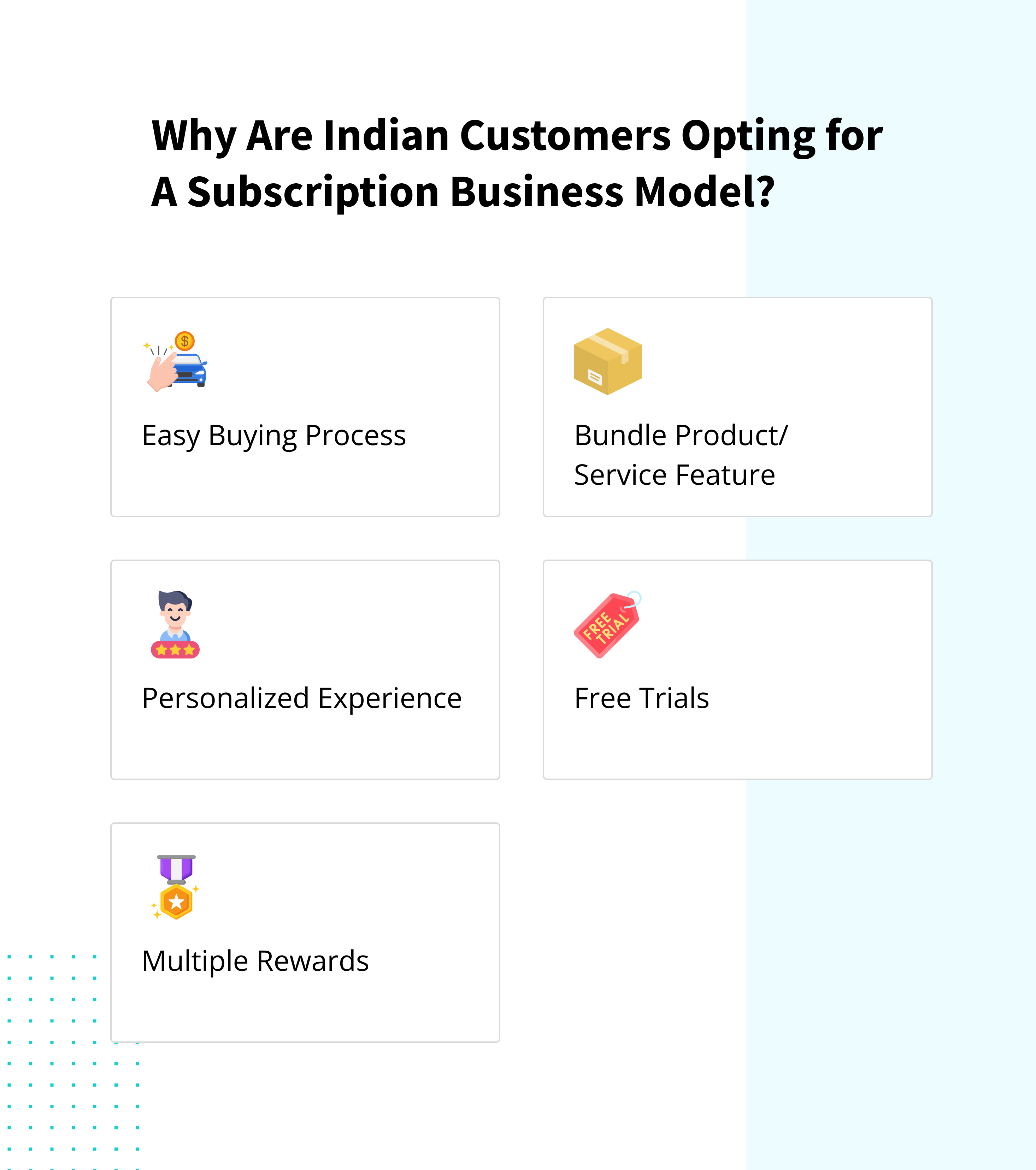 There's a dramatic rise in the number of Indian consumers opting for subscription business models. Here's why:
1. Easy Buying Process
One of the biggest reasons Indians opt for subscription models is the easy buying process. Customers can purchase by paying a small amount that is way more accessible and affordable than paying the entire amount.
2. Bundle Product/Service Feature
Unlike regular business models, the subscription model usually offers customers multiple features, i.e., a bundle, which sounds way more lucrative than purchasing a single product/service. This again propels Indian customers towards subscription-based businesses.
3. Personalized Experience
Not all customers are alike. Some need additional features and can pay extra, while some need the basic features that come at a low price. And subscription business caters to them all. With a subscription model, you can offer multiple plans to your customers that are priced differently and offer different features. This way, you can offer your customers a personalized experience.
4. Trials
Indian consumers like to use the thing before making a purchase. While it can be challenging with regular business models, the subscription model makes it easy. Consumers can try the services or the product by paying a minimal amount. If they like it, they can continue to pay. Otherwise, they can cancel the membership. This offers the consumers freedom and makes them think they're in control.
5. Multiple Rewards
Subscription businesses often experience better customer loyalty than others. And they often reward consumers for their long-term association, giving them another reason to stay.
Good read: Comprehensive Guide to Subscriptions Management
Types of Subscription Pricing Models
1. Flat rate
This subscription model makes the product/service available to the customers at a fixed price and features. Usually, the payment varies based on the duration of the plan. Take Amazon Prime or Hotstar, for example.
2. Pay-as-you-go Model
The name says it all. The consumers pay only for what they've used. For instance, broadband companies use a Pay-as-you-go model wherein they charge their customers based on the data they consume.
3. Stair Step Based
In the stair-step pricing model, the businesses charge customers a set amount of fee until they're below or above the threshold point. Let's say you offer resume parsing services and allow your customers to parse 1-1000 resumes for Rs. 1000 and 1001-10000 for Rs. 5000 in a month.
Now, your consumers can parse any number of resumes under 1000 for Rs. 1000. And, if they exceed the 1000 mark (threshold), the pricing will increase to Rs. 5000.
4. Tiered
The tiered pricing model is commonly used for software products. It involves 2-5 levels or tiers of pricing plans wherein every plan comes with a unique set of features and pricing. Take GoDaddy or Microsoft Visual Studio, for example.
5. Per Feature Pricing
The product/service is priced based on its functionality or features in per-feature pricing. The plan will cost more if there are more features and vice versa. Take Nibble Box and QuickBooks, for example.
Key Takeaway
The subscription business model is booming and there to stay. Indian consumers are aggressively opting for subscriptions, which will only increase in number over time. So if you're an online entrepreneur, it's high time your company integrates this trend into its strategies too! This will help you stay ahead of your competition and capture a more extensive market than ever.