Subscription management software is the art of managing a customer's subscription life cycle from beginning to end through subscription-based services. It helps businesses track and manage their subscribers and subscription-based services. These tools range from basic ones that save time while setting up your subscription processes to advanced ones that offer detailed analytics and multiple ways to segment your customers.
Consumers are willing to pay a fixed amount for regular access to a service or product they find valuable. If you plan to launch a subscription-based business or have one in place and want to upgrade your subscription management system, here is an overview of the available tools.
What Are the Benefits of Using a Subscription Management System?
This type of business model is gradually becoming popular, and it's easy to offer a proof of concept and attract more customers with such pricing.
1. Attract More Customers
An entry barrier for any product is its elevated price. Most customers will only buy your product if it becomes increasingly expensive. Subscription payments reduce this entry barrier and make your product accessible to more potential customers.
Customers find it more appealing to pay $30 monthly than to be charged $300 all at once. They also profit from the expanded advantages you can offer as your company grows.
2. Easy To Offer a Proof of Concept
It is challenging to give a trial period using one-time payment systems. Even with a free trial, the product's total cost can become a barrier to signing up. It is considerably simpler to do this with subscription-based systems, as you can offer trial versions to persuade customers to subscribe to the full version.
3. Higher Return on Customer Acquisition Costs
A subscription-based model increases your ROI (Return on Investment). You can forecast your monthly income as the recurrent payment is determined at the initial transaction time. This model guarantees a steady stream of revenue from loyal customers, provided you keep them satisfied.
The higher your retention rates and customer lifetime value, the longer a subscriber remains devoted to your brand. Such a model makes your acquisition spending far more cost-effective, which is fantastic for your profit margins.
7 Best Subscription Management Tools in India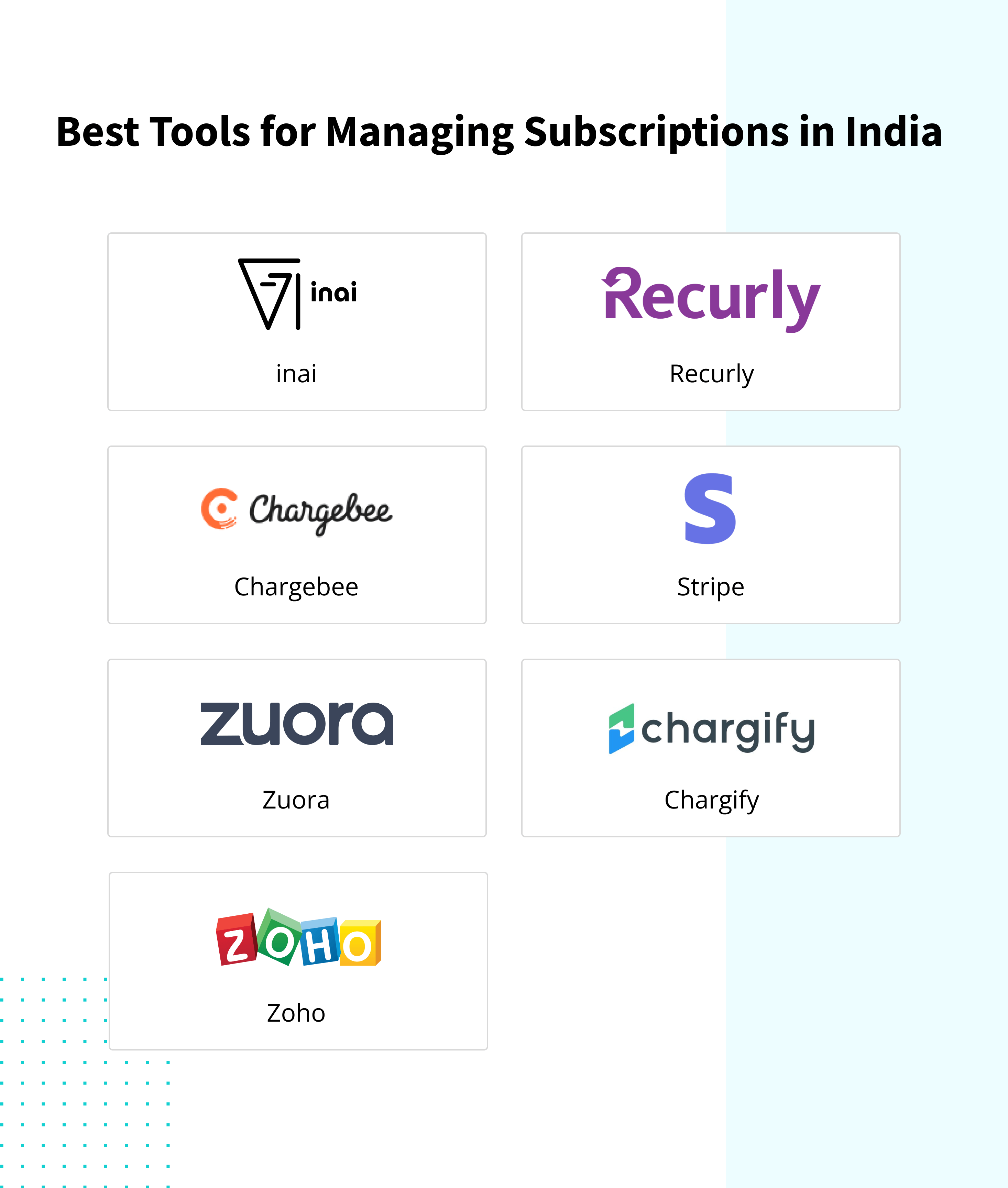 1. inai
inai is one of the most popular subscription management software. It helps e-commerce and online businesses keep track of their subscription-based customers. It is quick and easy to use, supporting over 300+ international payment methods worldwide.
Inai, as an online platform, is an end-to-end subscription management software. You can perform a variety of functionalities with their platform, which includes:
Create subscriptions
Dunning

Grandfathering

Couponing

Billing

Invoicing

Tax
You can use their available subscription stack to spanning 6 continents. This way, you can make the most out of your subscription payments by collecting them in local currencies.
Some added benefits include accepting subscription payments via various modes, including UPI, cards, ENACH and E-Mandates.
Good read: Comprehensive Guide to Subscriptions Management
2. Recurly
Recurly is a subscription management tool that allows businesses to automate their subscription billing and payments. It integrates well with several popular payment processors, making it a convenient option for businesses of all sizes. Recurly offers numerous customizable features that fit a business's unique needs, such as subscription plans, coupons, and invoicing. The interface is easy to use with a simple setup. However, Recurly lacks advanced features like easy project management tools, fraud detection rules, and project management tools.
Nonetheless, Recurly offers a flexible, pay-as-you-go pricing model that enables businesses of all sizes to start quickly.
Key features include:
It provides detailed analytics for subscription businesses,
Manages the complexities of recurring payments and billing
It also offers integrations with third-party tools like Salesforce, Google Analytics, and Mailchimp
3. Chargebee
Chargebee is a subscription management and billing platform that helps businesses automate their recurring billing process.
The portal integrates with popular e-commerce platforms and payment gateways to make it easy for businesses to use recurring billing. Each recurring revenue organization requires additional alternatives and flexibility to handle various billing use cases.
Key features include:
Automate your billing process, manage subscription plans, and track customer payment histories.
Use their suite of tools to manage your subscription business via their subscription management console and payments API.
4. Stripe
India is a rapidly growing market for online businesses, and Stripe is well-positioned to help them manage subscriptions and payments. Stripe has several features that make it ideal for managing subscriptions in India. As more and more businesses in India move online, Stripe is poised to become the go-to solution for managing subscriptions and payments.
Key features include:
With Stripe, you can easily create and manage your subscription plans, set up recurring payments, and track your subscribers.
It also offers a variety of features to help you grow your business, such as automatic payments, fraud protection, and support for multiple currencies.
The robust API enables seamless integration with existing systems and processes.
5. Zuora
Zuora helps businesses improve their subscription management processes in India. As a subscription-based platform, it helps save time and money by automating subscription billing and payments. Zuora's platform has helped businesses improve their customer experience by providing a single platform for managing all their subscription-related processes.
Key features include:
Zuora's platform integrates with numerous third-party applications and services.
Centralized platform for managing business subscription processes
Allows users to adjust usage based on demands rather than surplus buying
6. Chargify
Chargify is a comprehensive, all-in-one subscription solution that helps businesses manage recurring billing and payments. It is an excellent solution for businesses that run multiple subscription plans for various clients, whether for a service or subscription products.
Key features include:
It lets businesses track and manage their subscriptions, customers, and payments.
A customer self-service portal that allows customers to manage their subscriptions and payments.
It provides advanced tools that keep its customers happy and their subscription services running smoothly.
7. Zoho
Zoho is a software company that provides an online subscription billing platform. It is a subscription management system for managing subscription payments. Businesses of all sizes can use it to manage their subscription payments. The software is easy to use and has various features that make it an ideal choice for businesses in India.
Zoho subscriptions can manage multiple subscription payments, create invoices, and track expenses.
Allows businesses to set up automatic payments to ensure that their subscription payments are always up to date.
Zoho Subscriptions is a valuable tool for companies in India that want to streamline their subscription payments.
It provides an analysis chart for end-users facing accounting problems.
The software is easy to use and has various features that make it an ideal choice for businesses of all sizes.
How can inai Help?
inai is a payment aggregator platform connecting merchants and consumers. You can accept payments through your website, mobile applications, or even at the physical point of sale. The end users enjoy additional features such as automated billing, subscription tracking, and analytics.
inai, as a payment aggregator platform, plays a vital role in setting exemplary standards for subscription management. The question is, how can inai help you manage your subscriptions?
Here are some ways through which you can benefit from inai's subscription management platform:
1. Manage Customers: How does the idea of a self-serve tool sound when giving your customers complete control of their subscriptions? inai's platform offers the perfect opportunity for users to upgrade/downgrade/cancel journeys as they deem fit.
2. Tracking Renewals: You need to worry about many things in a business. If you have to add the woes of subscription renewal to the list, there are high chances of losing out on important business aspects. The most challenging part of integrating IAP is associating a user with a subscription and tracking renewals. inai takes care of all such routine tasks by implementing the following:
As a business, you can view your users' and customer subscriptions, including automatic renewals.
To maintain loyalty and enhance customer satisfaction, trigger notifications using webhooks to inform users about their pending renewals.
Help users avail of their running subscriptions as and when they change devices.
Inform them about failed subscriptions and the reason and the way to re-subscribe.
Some additional benefits include the following:
Using inai's no-code dashboard, you can set access levels to map the plans of each access level.
Pay a flat fee, which depends on your usage. You can avail of variable trial periods, plan durations and discounts, and coupons to make the most out of your association with inai.
inai's platform integrates seamlessly with email merchants and Slack, handling 2FA in a customer-friendly manner, saving you time and money.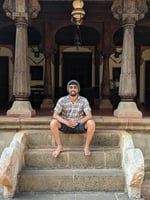 Swaroop Patil S
Swaroop handles marketing at inai, he relishes any opportunity to get his creative juices flowing. Marketing, Analytics, Web Designing, and Automation are a few trades that Swaroop may find himself dabbling in.