The COVID-19 pandemic has had an immense impact on the world of digital entertainment, with OTT platforms offering consumers a plethora of options to choose from. Enjoying plays and movies can now be done without ever having to leave home - no surprise why it's become such a hot topic in recent times!
But what's making OTT platforms so common? The obvious answer is that the internet has revolutionized how digital creators and the entertainment industry are vying for the viewer's attention.
As a digital creator, here's what you need to know about the OTT industry in 2023.
Current OTT Landscape and Trends for 2023
There's no denying how the pre-pandemic and the post-pandemic times have changed viewers' perceptions. From watching movies in cinema halls to sitting comfortably in your house to watch the latest movies, there is a massive shift in how people perceive OTT platforms.
According to a recent report, the OTT market will grow from $171.36 billion in 2020 to $1039.03 billion by 2027.
What's even more evident with the launch of the OTT platforms is the increase in subscription-based revenues for payment providers, who are doing excellent business with the burgeoning viewer demands.
During the initial years, all OTT companies allowed their subscribers to stream audio and video content for free, as their revenue model revolved around advertisement-driven revenues. There has been a change in how these platforms make money now.
While initially, these platforms created a large user base using advertising-based video-on-demand techniques, there are other ways of making money. Gradually, these companies have rolled out subscription-based plans to the consumers to enhance their servicing suite and revenue models.
9 Ways OTT Platform Can Increase Payment Success Rates
While advertising-based revenues are paving the way for revenue enhancements, more is needed for OTTs to maximize their gains.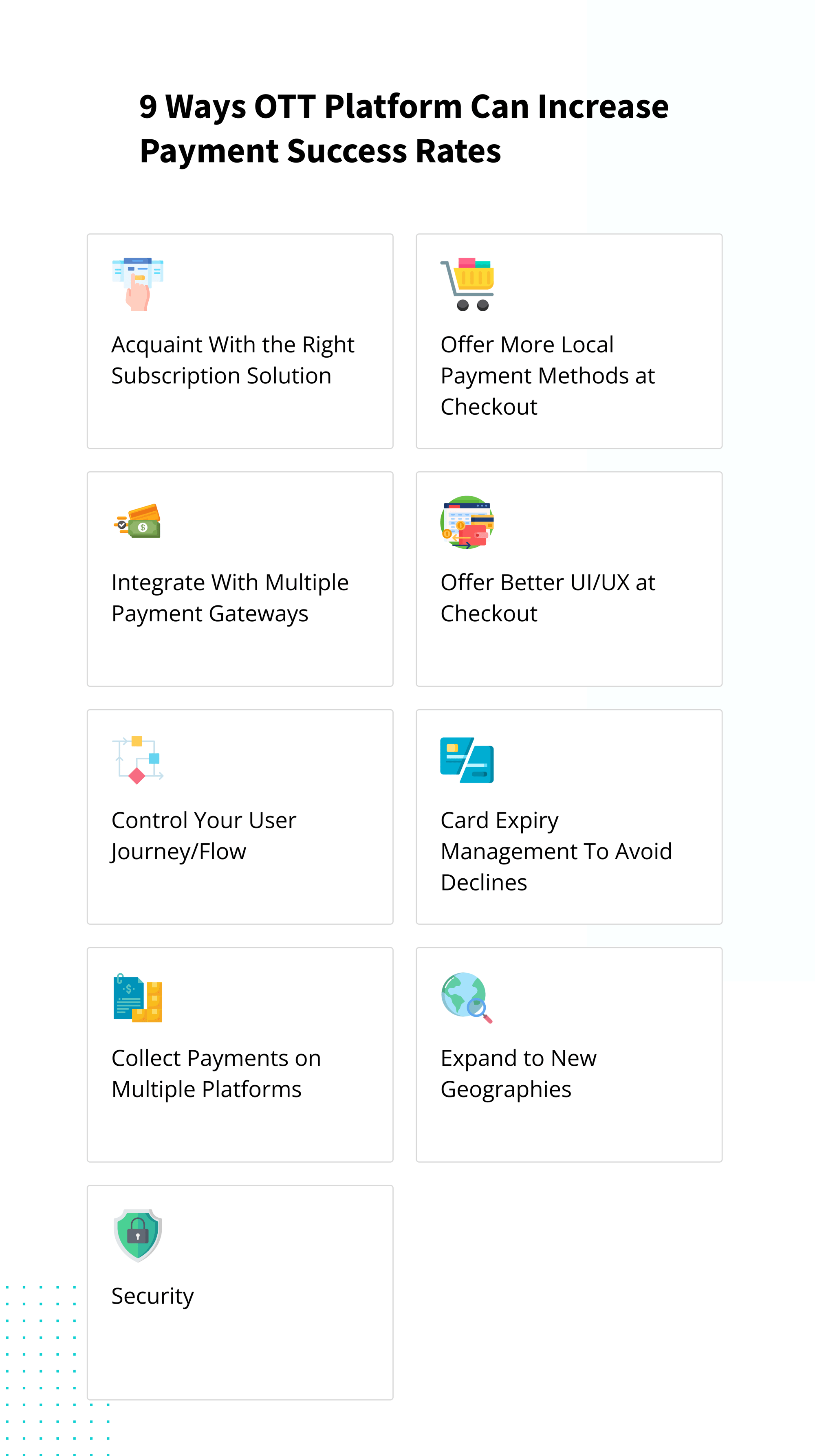 1. Acquaint With the Right Subscription Solution
The right subscription solution makes an OTT platform indispensable. Whenever you have a reliable subscription solution in place, you can allow your customers to attain the following benefits:
Reduce involuntary churns: Customers tend to move away from an OTT platform, especially when they are unable to renew their subscriptions for their favorite platforms.

Understand the reason for churns: Churns include voluntary and involuntary churns. This might include reasons such as expired credit/debit card details, better rates, and services from competitors, etc. Knowing exactly why customers are leaving is the key to a successful retention strategy that will result in long-term growth for your business.

Pause subscriptions: OTT platforms work well, especially when customers can pause their subscriptions as and when needed. There might be circumstances when customers can't continue their subscriptions for unforeseen reasons.

Integrate multiple payment gateways: A successful OTT platform should be able to integrate multiple payment gateways to allow customers to pay via their favorite payment channels.
Since each payment gateway offers a variety of payment options, customers can pick and choose the payment method which makes them comfortable and is readily available.
Good read: Why Do You Need Multiple Payment Gateways?
2. Offer More Local Payment Methods at Checkout
Subscription-based models rely heavily on incorporating local payment methods for their customers. When dealing with domestic and international customers, you must treat your subscribers as king.
In such a scenario, you need to consider the demographics of your customers and the currency in which they will pay for their subscriptions. You can use multiple payment gateways, which offer local payment modes to the customers. This enables customer retention and promotes loyalty.
3. Integrate With Multiple Payment Gateways
When working with a widespread customer base, you must incorporate several payment gateways so your customers can pay in their preferred currency and opt for a suitable payment frequency.
Different payment gateways offer various options to the customers, allowing them to stick to their preferred OTT platform, thereby creating a sense of belonging and loyalty in the subscribers' minds.

Good Read : Why Do You Need Multiple Payment Gateways?
4. Offer Better UI/UX at Checkout
User experience and user interface are essential segments that can make or break your subscriber's experience while using an OTT platform. Ease of use, access, and checkout experiences make it necessary to consider.
For example, you may move away from the platform if you have a lot of web pages to navigate before checkout. A simple checkout experience makes it easy for customers to subscribe to a service. Subscription-based models should not seem like a chore during the renewal time.
5. Control Your User Journey
As a service provider, you must control your user's journey. When providing services, you need to incorporate a variety of AI and ML logic in your provisions to ensure a seamless customer experience.
For example, when you provide movie options for rent on your platform, you need to make the checkout experience easy and seamless so that users can rent the movie efficiently without worrying about going from pillar to post.
6. Card Expiry Management To Avoid Declines
Credit and debit cards have an expiry date. When a customer inputs and saves their card details on your platform, you need to manage these details so that customers can rely on your services to receive reminders from time to time.
As a service provider, you should send timely reminders to your customers about their card expiry. This way, when your subscriptions are due for renewals, you can avoid card declines and save your platform from involuntary customer churns.
7. Collect Payments on Multiple Platforms
Users tend to use multiple platforms to view and manage their subscriptions. These platforms include desktops, TVs, mobiles, and tablet devices, wherein you can view and access your subscription platforms.
OTTs must showcase their true potential by mapping their services to different platforms, so customers don't feel restricted when viewing their favorite shows.
Why limit your services to a specific demographic area when the internet offers an excellent option to expand worldwide? Take the example of Netflix, which has slowly and steadily expanded its presence to various countries globally.
Netflix currently offers a subscription-based service and has an enhanced presence in multiple countries; what stands out is that the platform provides a variety of subscription models and is compatible with numerous platforms.
9. Security
When dealing with sensitive financial customer information, you must provide excellent security to safeguard this information. In other words, as a subscriber, you must ensure that your financial information is safe on such platforms. As an OTT platform, you need to take the necessary steps to prevent the misuse of such information.
How Can inai Help?
With inai, you can easily accept payments on your website with an all-in-one subscription management tool that supports various payment gateways. Enjoy the convenience and flexibility of a reliable platform to manage everything from one simple interface!
Our payment orchestration platform helps OTT platforms in the following manner:
1. Managing customers:
The primary revenue source of an OTT platform are viewer subscriptions. Our platform is an ideal self-serve tool that gives customers full-fledged control of recurring subscriptions. As a customer, you can upgrade/cancel/manage your subscriptions with ease.
2. Track renewals:
The biggest reason for involuntary churns is expired credit/debit card details. As an OTT platform, you can track your customer's subscription renewals in one place and send reminders to your customers about their renewals with a single click.
Some additional benefits of our subscription model include the following:
Our subscription model is a no-code platform, which you can use to map different customer access levels.

You can pay a standard fee, which varies basis your usage. Our platform offers variable trial periods, along with planning your durations to roll out the best discounts to your viewers.
Use our platform and transform your OTT subscription model into a success story.