A payment service provider or payment gateway is necessary to process online payments. However, finding the right one can take time and effort, especially if you're a high-risk merchant or operate in a high-risk industry.
Fortunately, with some research, you can find a reliable payment gateway for your business. This blog talks about the seven most reliable payment gateways that are both secure and have a higher risk appetite than regular payment service providers.
In addition, you'll find a list of types of businesses considered high-risk, along with a short guide to help you choose the best. So, read in full.
Types of High-Risk Merchants or Industries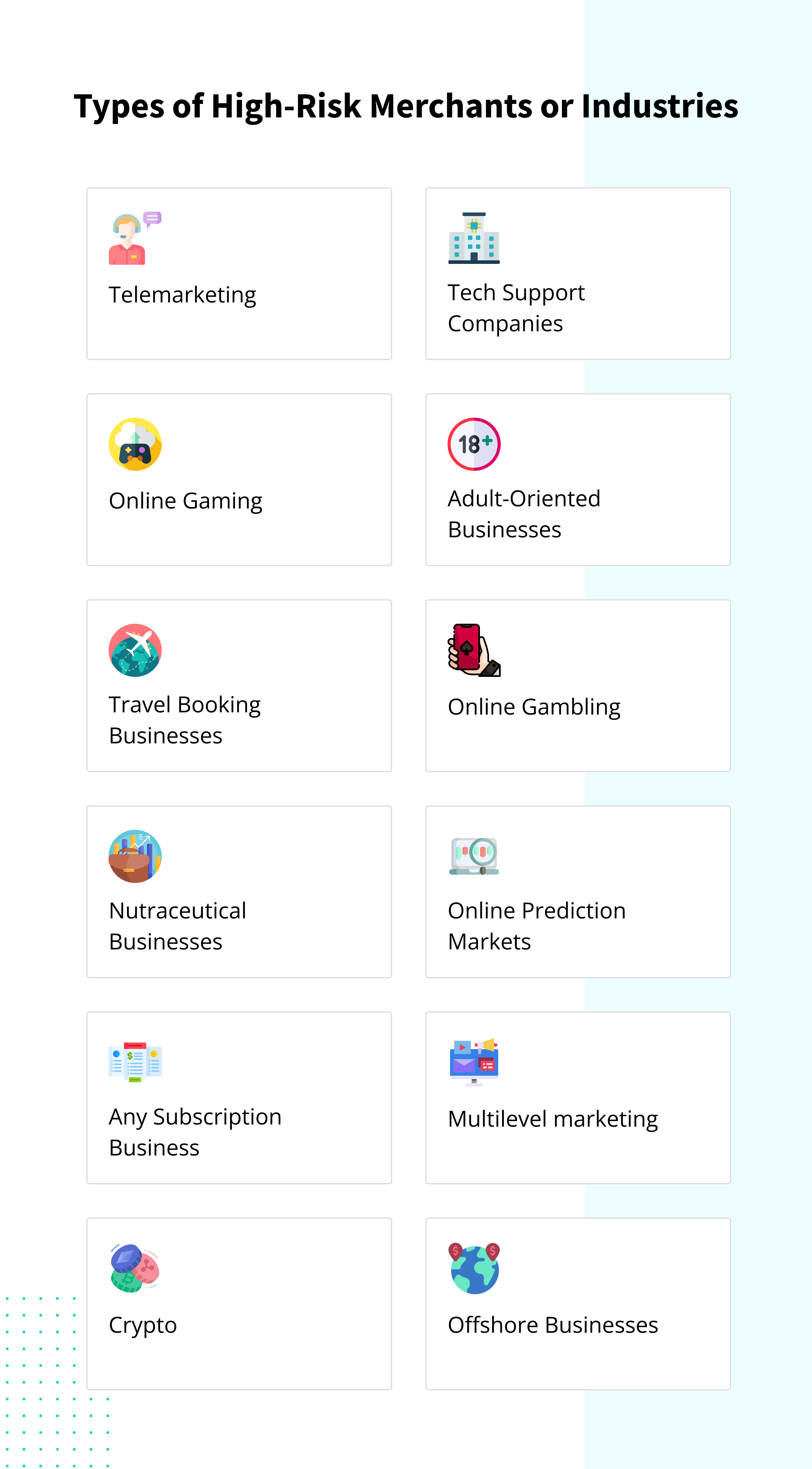 Here are some common business types or industries that are considered high-risk:
1. Telemarketing
Telemarketing businesses majorly involve card-not-present transactions, which make them prone to customer disputes, fraud, and frequent chargebacks. And because of this, they're considered high-risk.
2. Tech Support Companies
The tech support domain is high-risk as there are excessive chargebacks and irregular high-volume sales. This is why they can only obtain merchant accounts if a payment gateway caters to businesses like theirs.
3. Online Gaming
The online gaming industry attracts players of all age groups. This often leads to younger players forging their IDs. Also, online gaming is often a known industry for drug trafficking, cyberbullying, and even money laundering.
4. Adult-Oriented Businesses
The nature of businesses in the adult entertainment industry is enough for banks to offer them merchant accounts, considering the controversial content they produce. Also, as these businesses involve card-not-present transactions verifying ID can be challenging, leading to fraud.
5. Travel Booking Businesses
Travel booking businesses are also considered high risk as they involve a high volume of customer cancellations. Also, as there's no refund policy in most cases, customers file for chargebacks with their card brands.
6. Online Gambling
Online gambling is unpredictable (experiences high transaction volume), falls into grey areas (illegal in several parts of the world), and involves card-not-present transactions and friendly fraud chargebacks. This is why banks consider this a high industry risk.
4. Nutraceutical Businesses
Although nutraceutical businesses are pretty famous, they're still considered high-risk because there aren't any clear regulations around them. Even the manufacturers lie about the ingredients they use and make false claims. This leads to frequent legal repercussions and chargebacks.
5. Online Prediction Markets
Online prediction markets are a kind of get-rich-quick scheme involving money loss. And this often leads to friendly frauds as customers change their minds after losing money and report chargebacks.
6. Any Subscription Business
Subscription businesses of all types experience unpredictable revenue and numerous cancellations and chargebacks. This is why they're categorized under high-risk industry types.
7. Multilevel marketing
Traditional banks and merchant account providers consider multilevel marketing companies' high risk as they're often linked with running a pyramid scheme, which is different from how regular retail businesses operate.
8. Crypto
Businesses operating in the crypto space are also categorized as high risk as they involve trading or cryptocurrencies, which aren't regulated by most countries, especially India. Also, crypto businesses involve fraud and identity thefts, making it all riskier.
9. Offshore Businesses
Offshore businesses cannot precisely decide how much they want to sell their goods and services for. This can lead to customers paying extremely high prices for goods, especially in conditions of distress.
What Do you Need to Get a High-Risk Payment Gateway?
To be able to get a high-risk payment gateway for your business, you first need to apply for a high-risk merchant account. Other formalities include high-risk encryption, SSL certificate, 3D verification system, and high-risk customer authentication. Once you have all this in place, there shouldn't be any problem obtaining a high-risk payment gateway.
How to Select the Best High-Risk Payment Gateway Providers?
Here are some things you need to consider to select the best high-risk payment gateway provider:
1. Evaluate your Business Type
The first step towards finding the best high-risk payment gateway is evaluating your business type. You need to determine what industry your business is in and how many monthly payments you process. This is something you must check with the payment gateway to see if they can support your needs.
2. Locations of Operation
Then, you need to identify all countries you're operating in. It's essential as only some high-risk gateways support global transactions.
3. Fee or Charges
High-risk payment gateways charge a higher fee than high-risk merchants. Therefore, you need to determine all kinds of fees they charge, from transaction fees, processing fees, and interchange fees to chargeback fees and long-term contract fees.
4. Customer Support
Customer support should always be a priority when looking for a high-risk payment gateway. After all, you'll have to deal with frauds, chargebacks, friendly or otherwise. So, check what kind of system they have for dealing with frauds, especially chargebacks, and how well they're at providing resolution.
Disclaimer: Please note that the list of payment gateways for high-risk merchants provided below is generalized. The definition of 'High Risk' can differ from one payment gateway to the next. For example, while some of the payment gateways in this list may consider Online Travel Agency businesses as high-risk, others might not.
7 Payment Gateways with a Higher Appetite for High-Risk Merchants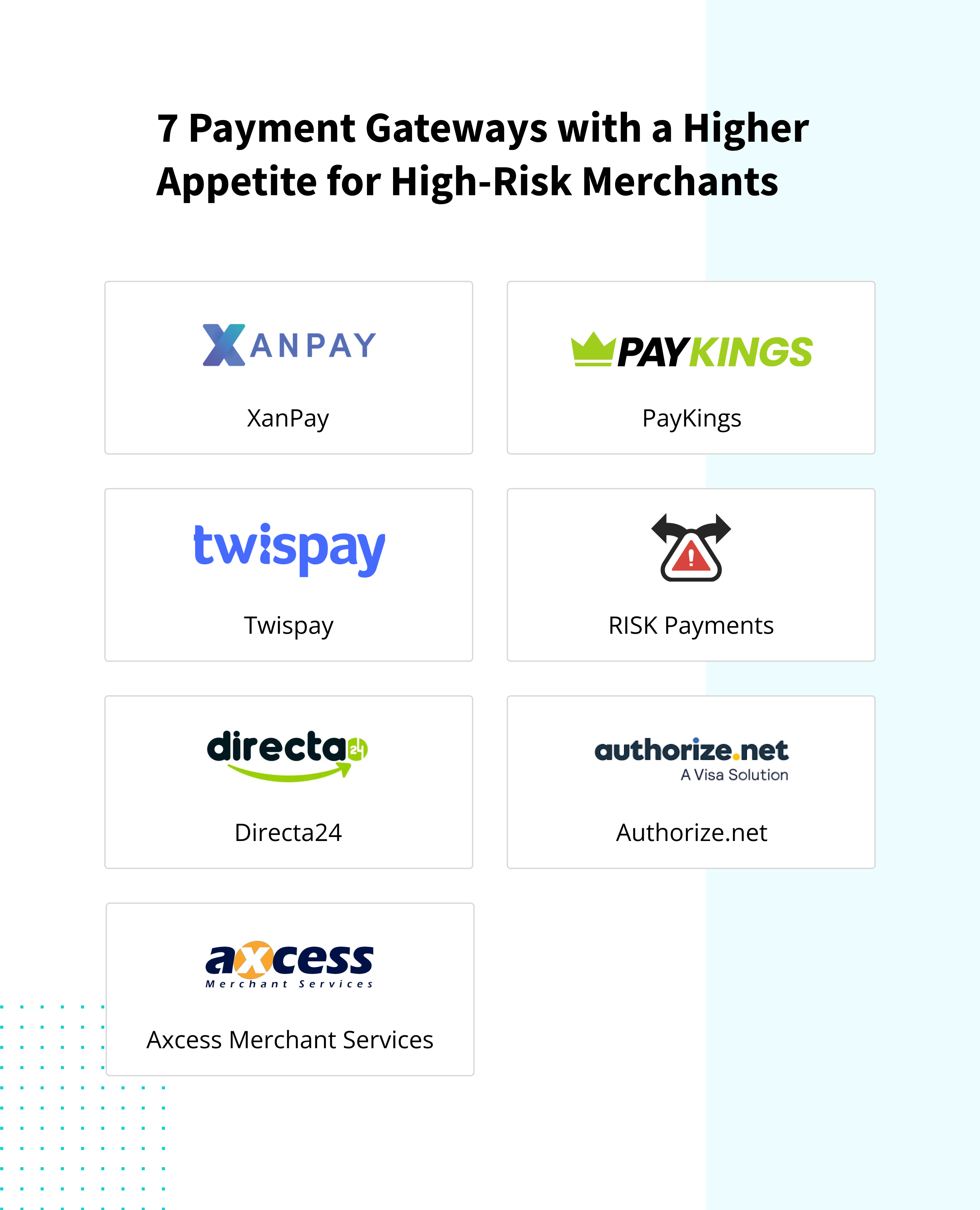 1. XanPay
XanPay is a payment gateway that supports cross-border transactions to both high and low-risk businesses via local payment methods. It offers the lowest fee, which is why thousands of companies use XanPay worldwide. Here are some essential features it provides:
Fee: The transaction fee is 1.99% for international transactions and 0.60% for local ones.
Industries: XanPay works with vaping industry, the eCommerce industry, subscription-based businesses, and other types of high and low-risk merchants.
Chargeback and Fraud Prevention: XanPay offers zero chargeback liability and has a fraud monitoring system.


2. PayKings
PayKings is one of the best payment service providers specializing in offering advanced payment services to high-risk merchant accounts. Here are some essential features it provides
Fee: It starts at 1% + interchange fee as stated by the card's brand.
Industries: PayKings works with merchants in adult, dating, travel, vape and e-cigarette, nutraceuticals, and several other business domains.
Chargeback and Fraud Prevention: It is in partnership with iSpyFraud to prevent fraud.


3. Twispay
Twispay is a payment gateway based out of Bucharest that supports high-risk payment businesses or merchants. It provides decent customizations, which means you can tweak it to suit your brand. Here are some essential features it offers:
Fee: It starts at 3.5%
Industries: Twispay works with betting, gambling, travel, and crypto merchants.
Chargeback and Fraud Prevention: Equipped with a fraud monitoring and alert system.


4. RISK Payments
RISK Payments is a high-risk payment processor based out of Tempa known for offering flexible payment solutions to high-risk merchants. Here are some essential features it provides:
Fee: It starts at 2.49%
Industries: Works with merchants from several

sectors

, including online pharmacy, travel, direct selling, nutrition supplements, etc.
Chargeback and Fraud Prevention: Equipped with automated anti-fraud protocols.


5. Directa24
Directa24 is yet another flexible payment gateway that supports high-risk industries from Asia, Africa, Canada, India, etc. It offers merchants access to 300+ payment methods making accepting payments convenient. Here are some essential features it provides:
Fee: It starts at 2.49%
Industries: Works with merchants from several

industries

, including online pharmacy, travel, direct selling, nutrition supplements, etc.
Chargeback and Fraud Prevention: Ensures 3D secure processing and has a fraud prevention system in place.


6. Authorize.net
Authorize.net is a subsidiary of Visa and has a stellar reputation for offering payment services, especially to high-risk merchants. They provide services to over 445,000 merchants worldwide, one reason you can trust Authorize.net. Here are some essential features it provides:
Fee: If you already have a high-risk merchant account, you'll have to pay a $25 monthly gateway fee, $0.10 per transaction, and a daily batch fee of $0.10.
Industries: Authorize.net supports numerous low and high-risk industries such as online retail shops, online smoke shops, cigars, etc.
Chargeback and Fraud Prevention: Equipped with a fraud detection suite to ensure safety.


7. Axcess Merchant Services
Axcess Merchant Services is a reputed payment service provider that offers tailored merchant accounts and payment gateway services. It supports a variety of high-risk industries and offers decent customer support. Here are some essential features it provides:
Fee: Pricing varies from 1-4.9% per transaction.
Industries: Axcess supports gaming, gambling, crypto trading, CBD, subscriptions, travel payment processing several other high-risk industries.
Chargeback and Fraud Prevention: Equipped with a fraud protection system with 60 different types of risk settings.


Challenges Associated with Integrating High-Risk Payment Gateways
Your problems continue even when you select the best high-risk payment gateway. It's because you need to integrate it into your website or/and mobile app, which is complex as there isn't documentation available with high-risk payment gateways, unlike low-risk payment gateways such as PayPal or Stripe. This can make you stuck midway, leading to further complexities.
Moreover, high-risk payment gateways often suspend merchant accounts or completely delete them in case they find something unusual, such as high payment volume. And this can impact your business negatively. So, what should you do? Well, you can get in touch with inai.
How can inai Help?
inai is a payment aggregator/ unification and integration platform that simplifies payment integration for merchants of all types (high or low-risk). You just need to share your requirements, fill in some paperwork, and can easily integrate payment gateways using inai's no-code integration via our dashboard. In addition, inai supports several local and global payment gateways and 300+ payment gateways, enabling businesses like yours to operate globally.
So, if one payment gateway pulls its services, you can easily switch to another using the inai dashboard, ensuring hiccup-free payments and a seamless customer experience.