As online businesses look to grow and expand their customer reach, a full-stack payment solution is becoming increasingly popular. With these solutions in place, organizations can enjoy the numerous advantages that come with them - from increased efficiency to added convenience for customers as they transact securely around the world.
Looking to stay ahead of the competition? Discover why and how a full-stack payment solution is essential for your business! Explore our blog to get an in-depth understanding of what a payment stack comprises and its potential benefit.
What is a Payment Stack?
A payment stack powers the entire customer buying experience, from when payments are initiated until they are authenticated and processed. It encompasses every stage, from where payments originate to what types can be accepted and authenticated through processing networks all the way up to settling transactions quickly and smoothly. Customers benefit from an effortless purchasing journey!
What is a Payment Solution?
Payment solutions offer businesses access to a comprehensive payment stack that allows for seamless transaction management – from the customer's initiation through crediting. Although useful, these services are often limited in terms of what insight and control they provide businesses.
What is a Full Stack Payment Solution?
Full-stack payment solutions open up a world of possibilities for businesses. They allow businesses to accept, process, and manage payments like a regular payment solution. However, full-stack solutions also provide valuable data insights which allow the business to gain control of its financials – ensuring better scalability in line with company growth plans.
Let's dive into the world of payment solutions and discover how a full-stack system can deliver numerous benefits. First, let's look at what makes up these essential components.

Components in a Payment Stack
1)Fraud Prevention

:

With the increasing developments in technology, frauds are on the rise too. For instance, the value of global eCommerce frauds reached $41 billion in 2022, from just $17.5 billion in 2017, and is expected to cross $48 in 2023, according to Statista.

Therefore, fraud prevention becomes an indispensable part of a payment stack. With an effective fraud prevention system integrated into the payment stack, businesses can monitor transactions closely and determine & deal with any fraudulent ones effectively, reducing the risk they pose to customers.
2)Settlement and Reconciliation

:
Payment reconciliation is necessary for businesses as it helps prevent data loss or misplaced entries. Reconciliation is the process of comparing the financial reports or transactions made with the bank statements to ensure there are no errors or discrepancies.
For many companies, reconciling payments and transactions can be daunting when their business begins to take off. With the rise in transaction volume comes difficulties that manual tracking cannot accommodate - necessitating innovation for an efficient solution.
A payment stack comes with a payment reconciliation solution that ensures all payments are recognized and appropriately managed, regardless of the volume. This way, scaling becomes easy, and businesses can ensure accuracy as automated solutions hardly make any errors.
3)Reporting

:

Yet another essential aspect of a payment stack is a reporting service or system. Each company that allows credit cards as a mode of payment needs to keep a record of all its transactions. These records should be easily accessible and have the required details for verification, as and when required. Here are some attributes a business must keep track of
Transactions activity

Commissions (for resale companies)

Processing expenses and fees

Chargebacks

Funding
4)Payment Gateway:
The payment gateway is another indispensable component of a payment stack. After all, the payment gateway approves the transaction between businesses and customers. Also, a payment gateway connects the payment processors and the payment service provider to the merchant, enabling them to accept online payments from customers.
Payment gateways are essential elements of any payment stack, acting as a bridge between merchants and their customers. This essential component approves transactions while connecting the merchant to payment processors and payment service providers, allowing them to easily accept payments securely online.
Also Read : What is a Payment Gateway? | Everything you Need to Know
5)Checkout Interface

:
A checkout interface is what customers see when they're about to make a payment. A great user experience starts with an intuitively designed checkout that displays local currency, relevant payment methods, and product details so customers can confidently complete their transactions quickly
Benefits of Having a Full Stack Payments Solution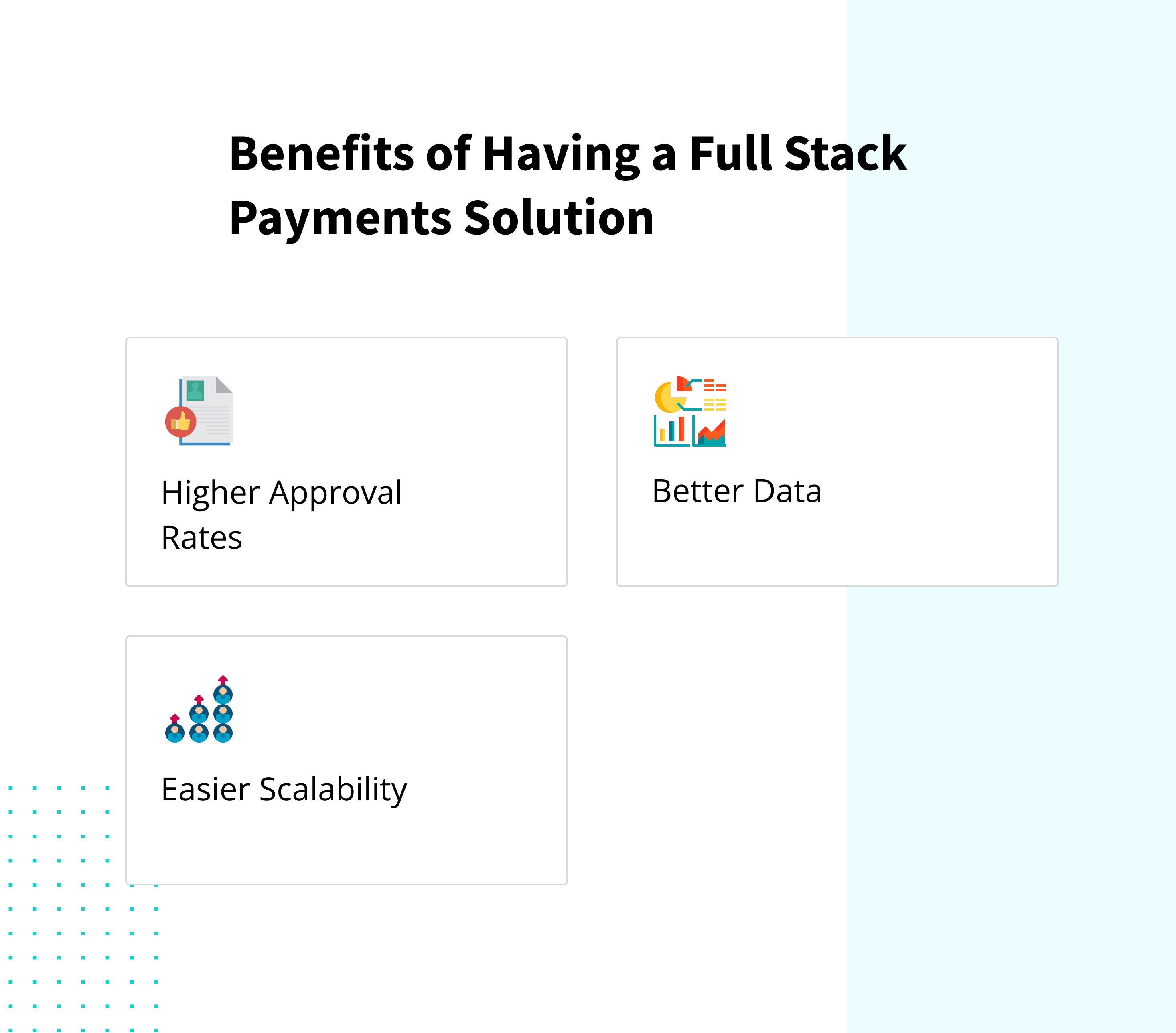 1)Higher Approval Rates

:
Full-stack payment solutions can give businesses the edge they need to maximize transaction approvals. By controlling every step of value chain processing, you remain in control over which messages are sent and how data is managed at all phases--ensuring no information gets lost during transit, so issuers have everything needed for authorizing transactions. This leads to a higher likelihood of successful payments, giving your organization an advantage when it comes time to collect on completed sales!
2)Better Data

:
Organizations of all shapes and sizes leverage data as an invaluable asset. Yet traditional payment solutions can stifle access to this resource, hindering the ability for businesses to make informed data-driven decisions.
On the other hand, a full-stack payments solution offers you complete data granularity. It means you can control every transaction's stage and determine what's happening at all times. This way, you can make informed decisions toward optimizing th payment system. Furthermore, using this data, payment reconciliation becomes easy.

3)Easier Scalability

:
When it comes to scaling, individual payment solutions are never helpful, and businesses must purchase more software solutions to meet their needs.

A full-stack payment solution offers businesses an unmatched level of efficiency and scalability. Through a single integration, companies can access all the features and functionalities they need for operational success - scaling up or down with ease as their requirements change. This cost-effective approach allows organizations to get the most from their payment solutions while continuing to meet customer demands without interruption.
How Can inai Help?
inai is a payment aggregator and payment integration solution using which you can integrate all local payment gateways and 300+ payment methods to your website or app and enhance your checkout conversions. You can manage products, transactions, refunds, etc., using a single dashboard while ensuring the complete security of our customers.
Moreover, inai offers a simple codeless integration that saves you time to invest in your core business operations. To learn more about how inai works and how we can help you ensure seamless payments, book a demo now!