Credits/Inspiration: Aditya Kulkarni
Unified Payments Interface (UPI) has changed the essence of the business and consumer payments by connecting several bank accounts under one or more apps. The ease of access, efficient payments, and adequate fund routing have changed the landscape for the Indian consumer.
As per NPCI, UPI's transaction value crossed USD100 billion in October 2021. By 2025, the Indian UPI market will grow from Rs. 2,153 trillion to Rs. 7,092 trillion. Despite its advantages, UPI has been gaining some negative traction over the past few years.
Drawbacks of UPI Payment Method:
A few things make this popular payment method less popular. Here's a look at some disadvantages.q.
1. Increased failure rates:
Since UPI relies heavily on technology and mobile networks, there is often a chance for increased payment failures. When you are traveling, or in a no-network zone, there is a high possibility UPI might stop working altogether.
2. Low-value transaction entries:
UPI might have become the preferred payment type, but it is continuously used for small and high-amount transactions. However, when you use it for minor purchases, you end up cluttering your bank's statements with these low-value transactions. With so many transactions, you will end up with at least 20-30 pages of transactions, mainly when you apply for a loan or hand over the bank statement for review.
3. Direct connection with the issuing bank:
When using UPI payments, there is a direct connection with your bank account, which can create a security concern. There are no robust encryption methods between the UPI gateway and the bank account, which can prove a little dangerous in the wrong hands.
What is UPI Lite?
Keeping the drawbacks in mind, NPCI has launched UPI Lite, an 'on-device wallet.' With this new-age wallet, you can make small value payments offline as a user. In short, you can make payments below Rs 200 with this wallet. At a given point in time, you can only top up the wallet with Rs 2000. While you can transfer payments offline, you will eventually need the internet to add the top-up value.
Good read: Top 12 Payment Gateways In India That You Need To Know About
UPI Lite Features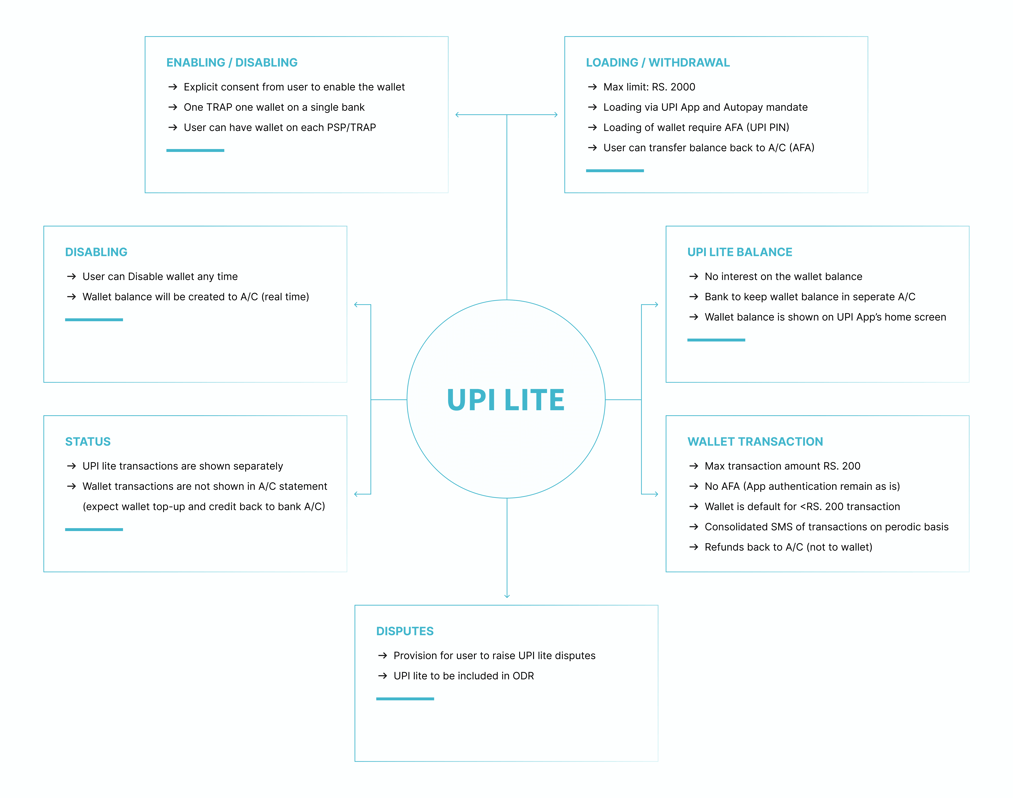 UPI Lite takes payments up a notch as an offline wallet with their small denomination payment facility. Here are some noteworthy features:
1. It's an offline wallet that you can use without internet access. To load money into the wallet, you need to have internet access.
2. You can make payments of up to Rs 200 in an offline mode.
3. This facility is available only to customers of eight banks, including
Canara Bank

Indian Bank

HDFC Bank

Kotak Mahindra Bank

State Bank of India

Punjab National Bank
Union Bank of India
Utkarsh Small Finance Bank
4. You don't need a pin to conduct low-value payments with this wallet.
5. Since this is a low-value transaction app, you won't see these transactions in your bank statement/passbook. Instead, you will receive an SMS every day showcasing the payment history.
How Does UPI Lite Benefit the Users?

Unlike UPI, UPI Lite's features continue to benefit the customer's wallet. Since you don't need any pin to make low-value payments, you can use this app offline. Additionally, there is always an option to top-up the wallet when you run out of funds.
With this wallet in place, you can make easy, well-recorded payments to your family and friends. Some additional benefits include:
An improved success rate for payments less than Rs 200.

Less infrastructure load on remitting banks.

Uncluttered bank statements and passbooks, making it easy for you to track payments.
How to Transfer Funds From UPI to UPI Lite?
You first need access to the UPI app to enable the UPI Lite wallet. If you are a pre-registered user of the UPI app, you can set up UPI Lite immediately. Once you have enabled UPI Lite, you can allocate funds from the main app to the secondary app (Lite).
At present, the Lite app only supports debit transactions from UPI. Any credits to the Lite app are processed online in the bank account.
Difference Between UPI Lite and Digital/Mobile Wallets?
There are a few primary differences between UPI Lite and your regular mobile and digital wallets.
| | | |
| --- | --- | --- |
| Points of Distinction | UPI Lite | Digital Wallets |
| Issued by | TPAP and Bank | PPI Licensed entities like Paytm, Google Pay, etc. |
| KYC Requirements | Not required | Minimum KYC requirements/Full KYC required depending on the provider |
| Funds available in | Escrow type of bank account | Escrow account within the issuing bank |
| Interest on balance | None | None |
| Maximum wallet balance | Rs 2000 | Rs 10000/Rs 200000 |
| Loading method | From bank accounts linked to your UPI accounts | Credit cards/debit cards/net banking |
| Max Transaction Amount | Rs 200 | None, depending on your linked account |
UPI Lite Flow
There are two types of flows within the UPI Lite app. The first flow revolves around enabling it, while the second talks about the transaction flow.
Enablement flow:
To enable the wallet, you need to open your UPI app.

On the home screen, you will get an option to enable the UPI Lite option. Click on this option.

Accept the terms and conditions.

Enter the amount you want to add within the UPI Lite. Select your bank account to add the funds.

Enter your UPI pin.
That's it; UPI Lite is enabled on your device.
Transaction flow:
To make transactions from the wallet, you can follow these steps:
Open the wallet.

Choose the payment option.

Enter the amount.

Money sent to the intended recipient.
Banks That Support UPI Lite
There are only eight banks that support UPI Lite for the time being. These are
Canara Bank

Indian Bank
HDFC Bank
Kotak Mahindra Bank
State Bank of India
Punjab National Bank
Union Bank of India
Utkarsh Small Finance Bank
How to Setup UPI Lite on the BHIM App?
Credit: Aditya Kulkarni
On the BHIM app, click the UPI Lite icon. Click on the terms and conditions button, followed by the Enable Now button. You can add the necessary funds from the desired bank account on the Enable UPI Lite screen. The wallet balance will reflect on the top right-hand side of your screen.
Click on the Scan icon, enter the amount and the bank account, and click on Confirm. When all the recipient details are available, the payment is confirmed.
Conclusion
The UPI Lite is an excellent wallet that works seamlessly for low-value transactions. When you are dealing with a frequent variety of payments, you can use the wallet to make these payments. While credit transactions aren't supported currently, the feature will be added soon. Until then, you can enjoy debits with relative ease.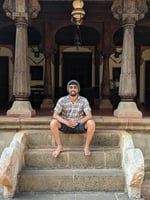 Swaroop Patil S
Swaroop is the founding member at inai, he relishes any opportunity to get his creative juices flowing. Marketing, Analytics, Web Designing, and Automation are a few trades that Swaroop finds himself dabbling in.