South Africa's journey mirrors the global trend toward digitization. The country is not just following the digital revolution – it's actively shaping it to fit its unique needs and circumstances. And the result is a vibrant and diverse digital payment ecosystem that offers something for everyone.
The South African Real-Time Payments Market was valued at USD 11.44 billion in 2021. By 2026, it's expected to reach a staggering USD 25.90 billion, growing at a CAGR of 17.8%. And this growth is not accidental. It's the result of deliberate efforts by businesses, consumers, and regulators to create a digital payment ecosystem that is secure, efficient, and inclusive.
If you're a business wishing to succeed in South Africa, you must implement a digital payment ecosystem and offer customer-preferred payment methods. And this blog is there to help.
Below, we'll shed light on popular payment methods in South Africa, why they're popular, and how you can leverage them to grow your business.
Top 5 Payment Methods in South Africa
Here are the top 5 payment methods used in South Africa: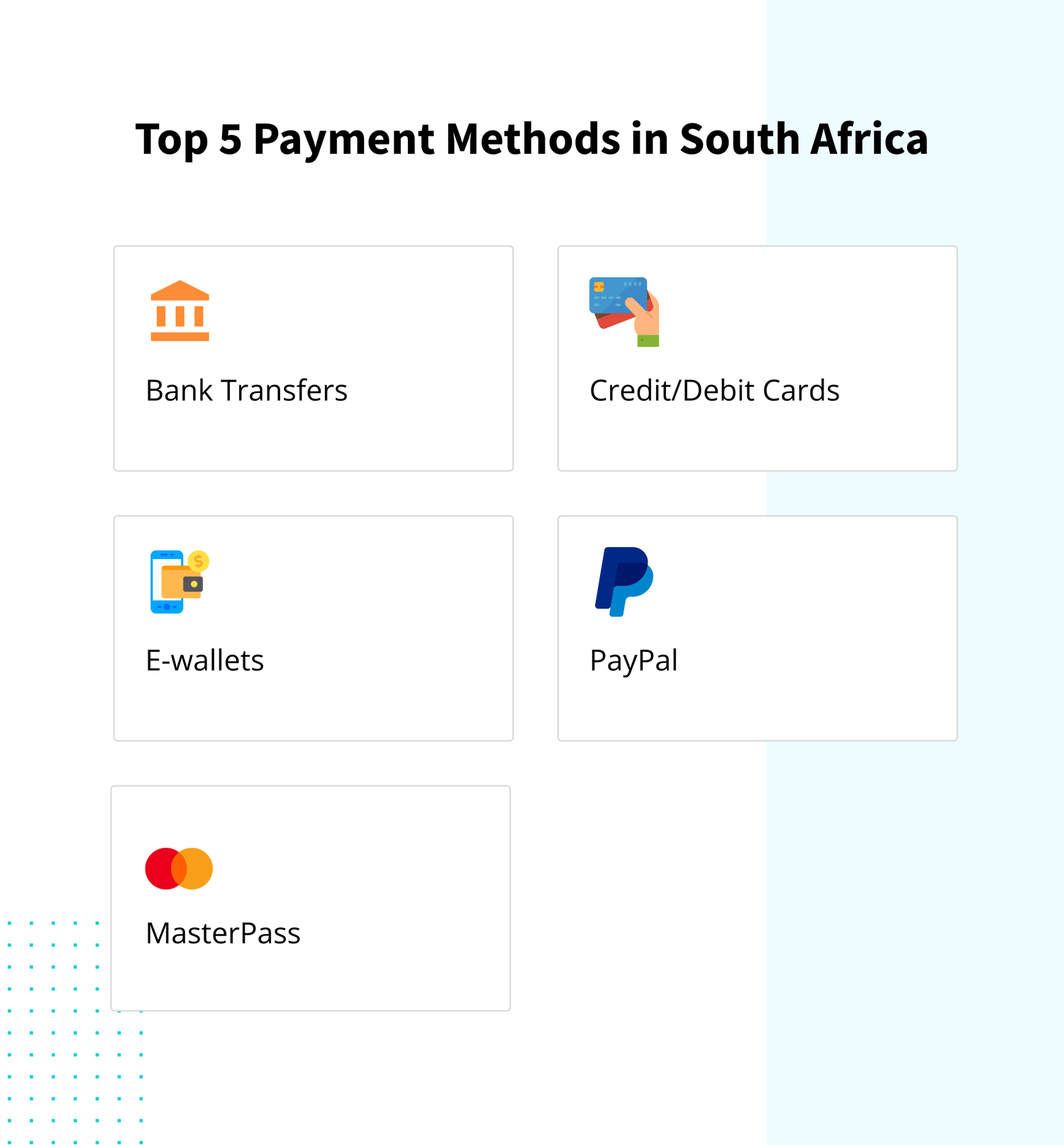 Bank Transfers
Bank transfers have carved out a significant niche in the South African payment landscape. Accounting for 20% of all e-commerce purchases as of January 2020, this method demonstrates its convenience and security.
It's a method that speaks to the consumer's need for control, allowing them to directly transfer funds from their bank account to the merchant without disclosing sensitive financial information online.
Cards (Debit and Credit)
Debit and credit cards are another major payment method prevalent in South Africa. Whether it is shopping online or paying at a physical store, cards have become a go-to payment method for South Africans.
As of January 2020, a whopping 41% of e-commerce transactions in South Africa were completed using a credit card. The primary reasons for this popularity are consumers' familiarity and ease of transaction. Also, card transactions are secure, and encrypted and come with customer liability protection.
E-Wallets
The rise of e-wallets in South Africa paints a picture of a nation accepting the future. E-wallets offer a unique blend of convenience and security, allowing users to store all their payment information securely in one place and make payments with just a few taps on their mobile devices.
From SnapScan to Zapper, the types of e-wallets are popular in South Africa. Each comes with its unique features, catering to different needs and preferences. It's not just about making payments; it's about making payments in a way that fits into the digital lifestyle of the modern South African.
PayPal
PayPal is a global payment titan. With a user base of over 254 million people worldwide, its popularity is undeniable, and South Africa is no exception. PayPal's ease of use, coupled with its high level of security, makes it a preferred choice for many online retailers in the country.
But what truly sets PayPal apart are its unique features. From buyer protection that safeguards consumers against fraudulent transactions to the ability to link multiple bank accounts and cards, PayPal offers a seamless and secure payment experience that South Africans have come to trust.
Good Read: Top Payment Methods In the UK That Your Business Needs to Know
MasterPass
MasterPass, a digital wallet service provided by Mastercard, is another key player in South Africa's digital payment landscape. It offers secure payment and shipping information storage, making online purchases a breeze.
MasterPass makes online shopping more accessible with faster checkout times and robust security measures. And all this helps enhance the overall customer experience of the customers.
Local Payment Methods and a Rise in Business Complexity
Here are some challenges businesses in South Africa face when implementing a digital payments ecosystem:
Understanding the Local Payment Scene:

Businesses must first understand South Africa's unique payment methods, including mobile money services like MTN Mobile Money and Airtel Money and local bank transfers.
To know which ways your target customers prefer, you must learn more about the local market and how people act. And this requires a lot of market research and time, which most businesses lack.

Technical Integration Challenges:

Each payment method has its unique integration requirements. Ensuring your systems can handle these different methods without compromising on security or user experience requires a robust technical infrastructure and a team that understands the intricacies of payment integrations.

Regulatory Compliance:

Complying with the South African government's regulations for digital payments requires a thorough understanding of the legal landscape and a commitment to maintaining high security and transparency standards.

Adapting to Customer Preferences:

Balancing the preferences of South African consumers and offering a range of payment options is crucial to ensuring customer satisfaction. Some prefer the convenience of mobile money, while others trust bank transfers.
So, amid these challenges, how can businesses ensure seamless implementation of payment methods? That's when inai comes into the picture. Inai is a global payment aggregation solution offering businesses a complete payment platform. Let's learn how inai can help.
How Can inai Help you Integrate Payment Methods in South Africa?
Here's how inai can help seamlessly integrate payment methods in South Africa:
Aggregator Network: inai is a global payment aggregator offering 30+ payment gateways and 300+ payment methods. By integrating inai, you can offer your customers all local and global payment methods and meet their needs.
In addition, inai allows you to customize your checkout experience based on customer preferences. And this helps improve customer experience, which is essential for your business's bottom line.
Integration: inai has a commendable no-code integration process. This enables you to integrate inai's payments solution without needing a dedicated expert and start accepting payments almost instantly.
Security: Security is no longer a concern. inai has fraud prevention tools, is PCI DSS certified, and follows GDPR guidelines closely. So, you can deliver a secure payment experience to your customers while complying with the regulations.
Analytics: inai is a great tool when it comes to analyzing payments. You can see all your payment data on the inai dashboard and draw valuable insights. For instance, you can learn which payment gateway has the highest success rate, which payment method is the most used, etc.
All in all, inai is a complete payments platform you can integrate into your business and tackle the challenges mentioned above. So, what are you waiting for? Book a demo with inai and learn how to leverage the digital payment landscape.