ACH is a popular yet underrated network for money transfers and electronic payments. Wait, did you not know about ACH? Well, we got you covered. This blog talks about everything you need to know about ACH transactions, from what they are to how they can benefit your business.
What are ACH Transactions?
Here are some pointers that accurately define ACH:
ACH stands for Automated Clearing House, is a U.S.-based financial network popularly used for electronic payment & money transfer.
ACH transactions are bank-to-bank money transfer transactions processed by the Automated Clearing House.
ACH transfers are often free, fast, convenient, and possibly better than wire transfers.
ACH transactions are of two types: ACH Direct Deposits and ACH Direct Payments. (more on that later.)
Types of ACH Transfers
The ACH network allows or facilitates two types of transactions that are:
1. ACH Direct Deposits
ACH direct deposits are the electronic money transfers initiated by the paying party. For instance, an employer can initiate an ACH direct deposit to pay wages to their employees. Here are some examples of ACH direct deposits:
Paychecks
Employer-Reimbursed Expenses
Government Benefits
Tax Refunds
Annuity Payments
Interest Payments
2. ACH Direct Payments
In ACH direct payments, business entities receive payments, and the recipient (business entities) initiates the transaction. For instance, the case of a customer paying a monthly internet bill or a recurring fee to the service provider's bank account is an example of ACH direct payment. The customer, who's on the paying end, registers an ACH debit in his account while the business on the receiver end registers a credit in their account.
How Do ACH Payments Work?
Before jumping right into how ACH payments work, you need to know the essential entities that make it all possible.
While the Automated Clearing House network is the main player in facilitating ACH payments, there are three more players that are equally important:
ODFI: ODFI stands for originating depository financing institution. This is the institution that initiates the ACH transaction.
RDFI: RDFI stands for receiving depository financial institution. This is the institution that receives the request for ACH transactions from ODFI.
NACHA: NACHA stands for National Automated Clearing House Association. It's an unbiased government entity that regulates and oversees the entire ACH network.
Here's How ACH Payments Work:
Let's understand this with an example.
Imagine you're an accounting company and charge a monthly fee from all your clients. The clients will set up an autopay option wherein the money gets transferred to you on a designated date on a recurring basis.
Now, when your billing cycle arrives, ODFI (your bank) sends a request to the RDFI (customer's bank) to transfer the money the customer owes. Then, both the banks communicate and ensure that the customer has enough funds in his bank account to process the payment. And if the funds are enough, money is transferred to your company's account. That's how a typical ACH transaction works.
How Long Do ACH Payments Take?
Typically, it takes around three business days to complete an ACH transaction. Also, the payments are processed in batches three times a day. In case the payment request is made after the last batch has been processed, one has to wait for the next day to get their payment processed.
Are there any faster options?
Fortunately, there are:
1. Same Day ACH Transfer
You can request the bank to process the same-day ACH transfer, wherein the payment can be either transferred on the same day or the next day. However, you may have to pay an additional fee for an expedited transfer.
2. Instant ACH Transfer Apps
Instant ACH transfer apps like Venmo and Zelle allow immediate money transfers from the customer's account to your bank account or vice versa.
Difference Between ACH Payments and Wire Transfers
1. Transfer Speed
When it comes to speed, transferring money via wire transfer is fast. The payments can be sent and received the same day and sometimes within a few hours. On the other hand, ACH payments are a little slower. Generally, they take about three business days to complete. However, there are better options, such as ACH same-day transfers and ACH transfer apps for instant transfers.
2. Way of Processing the Payments
Wire transfers are processed in real-time. However, ACH payments are processed in batches three times a day.
3. Transaction Fee
The wire transfers charge a hefty fee ranging from $15-$50. On the flip side, ACH payments are cheap as only $0.20 - $1.50 are charged per transaction.
4. Security
While both wire transfers and ACH payments are secure, the former is more commonly used by fraudsters for extracting money.
What are the Benefits of Using ACH Payments?
1. Cost Effective
Common modes of payments such as credit cards, cheques, and wire transfers are tough to process, which is why there are high costs involved. For instance, some credit cards charge a fixed 2% fee on every transaction, and wire transfer charges anywhere between $5-$50, as stated earlier. However, ACH transfers are really affordable as the processing fee ranges between $0.20 - $1.50. This will help you save good money over time that you can use to reward your customers and offer discounts to those who use ACH for payments.
2. Better for Remote Teams
It can be hard for remote account teams to come to the office to retrieve paper cheques. However, ACH makes it easy. As its electronic means of money transfer, account teams can manage all the payments online by accessing the company's accounting software.
3. Supreme Security
With every increasing case of cyber fraud, businesses must choose a mode of payment that's safe both for them and their customers. And that's exactly what ACH payments help establish. ACH payments go through a clearing house that helps keep account numbers confidential, further ensuring security. Also, this automated clearing house offers a 60-day recovery period in case an error or fraud occurs.
Note. Although no payment method is 100% fraud-proof, ACH payments are way more secure than other methods used in the market.
4. Very Convenient
Carrying checkbooks and mailing paper cheques can be quite a hassle for the customer. So much so that customers might miss their recurring payment just because they have to mail the cheque every week, fortnight or month. However, ACH payments solve this problem. The customers no longer have to carry checkbooks. All they have to do is set up a recurring payment system with your business. The payment will be transferred automatically from their account to yours at a mutually decided date.
Wrapping Up
ACH payments are a convenient way of receiving payments as a business. However, setting up ACH payments requires professional expertise. Also, you cannot rely on just one payment method: which means you need to integrate multiple payment methods on your website.
How can you do that?
Well, that's when inai comes into the picture. inai is a payment unification and payment aggregator platform that supports ACH transfers. Experts at inai will not only help you set up and accept ACH payments but also integrate over 30+ payment gateways and accept payments from customers across the globe. And all this while ensuring security and 24/7 customer support.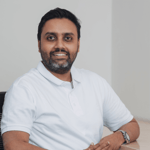 Karthik Narayanan
Karthik Narayanan is the Co-founder, CPO & CTO at inai, a global payment stack simplifying native payments with a single integration. He is a serial entrepreneur with over a decade of experience in product and engineering. Over the last 5 years, he has worked with 200+ businesses ranging from SMEs to Bigtechs.